Saturday, February 09, 2013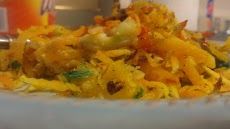 I made vegan, gluten free squash "hashbrowns" for the week's lunches, and I had some for dinner tonight. I am SUPER pleased with the results, especially because they give me a chance to create a "comfort food" that is even better and more nutritious than the original. I put the recipe up on spark.
As for my yoga challenge...Well, I made it 2 out of 5 nights. 75 minutes is too long right now given that the video I have is actually kind of boring. It's supposedly a power yoga video, but I don't break a sweat AND I'm not saying that as a "gee, look how awesome and in shape I am, I don't even sweat doing this bull**" Nope. Because that's not the case. I think the video is just a lot less challenging than they marketed it to be. I've definitely done 30 minutes of yoga that have had me sweating more. I'm going to look for a new DVD. All recommendations welcome!