Richmond Park.
I was pretty pleased with myself this morning, as I stood at Richmond Station awaiting Chicchantalís arrival for our walk.
I should explain that I am terrified of getting lost. I put it down to a bad experience when I was seven. My Granddad, holding my little brother in his arms, jumped on a number 11 bus, in central London and left me behind! He only went one stop, and came back for me, but I was inconsolable. Add to that, never being allowed to go anywhere by myself while I was married, and being told I was useless, and you get someone whoís afraid of doing anything.
So when last November, I went for a walk with other spark friends from Kew Bridge, and got myself there on the tube, that was well outside my comfort zone. Since then, I have got myself to Epping, Loughton, Walthamstow, and Tottenham Hale on the tubes, gaining confidence, but still getting into a panic if I had to consider going on overground trains. Chicchantal has been very patient with all this, shepherding me around, making sure I was OK. This time after an initial panic, I felt it was time to try by myself.
So at 9.30, very early since we werenít due to meet till 10.00, there I was, with not a care in the world. My cheese and tomato sandwich in itís box, my turkey leg casserole, for dinner tonight, bubbling away in the slow cooker at home.
We headed back to the tow path. This is Richmond Rail Bridge,one of the more attractive ones on the route.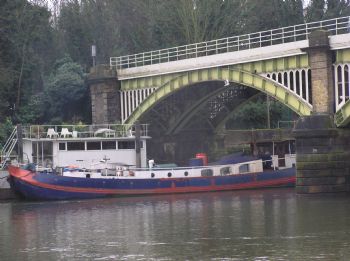 Then we branched off and climbed Richmond Hill, in the spitting rain. This rather nice building was visible through the trees, unfortunately I was standing on quite a gradient, so now it looks like the leaning tower of Richmond Hill!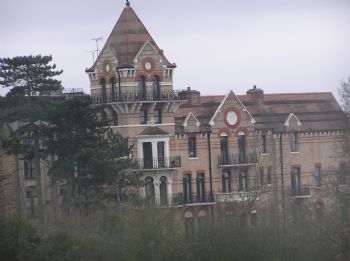 This is the view from the top, where the posh knobs live!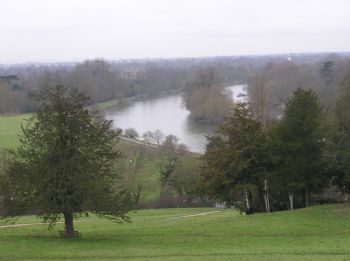 We went into the park at the Richmond gate, and while Chicchantal was otherwise engaged, I found the first flowering hellebores Iíve seen this year, theyíre far in advance of the ones in my garden.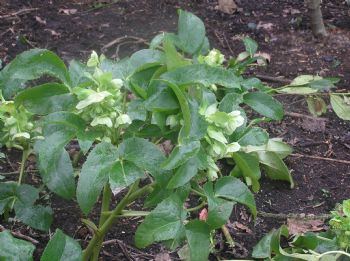 We then had a discussion about where we were going. There was no absolute plan, Chicchantal is still having pain from the back muscle she tweaked last Saturday, and I wasnít too fussed about where we walked, out and about was enough for me, so we decided to turn aside each time we saw civilization, and see where we ended up! Using Chicchantalís trusty old A-Z of London, to show us where we wanted to be, and my super -dooper phone app to tell us where we really were, we set off.
We headed through a thicket of trees. I would love to say it was lovely in the sunshine, resounding with birdsong! In reality, it was spitting hard enough now to call it raining, it was cold, dark and gloomy, and it resounded to the screeching of ring necked parakeets! They always remind me of a pack of children let loose with a boxful of dogs squeaky toys! Some people hate them, alien invaders! I like them, theyíre colourful, clever and resourceful. They donít get close enough to let me photo them either!
Speaking of dogs, I was accosted by a friendly one, who wanted to trip me up and examine my trousers for evidence of cat.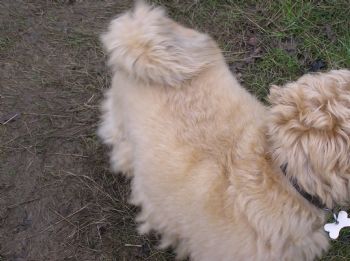 His name is Jasper apparently! Leastways thatís what his owner was screaming at him! Amongst other names. He was wagging too hard for me to get a steady picture of him! Definitely a case of the tail wagging the dog! I donít know why it is that animals like me so much. Iíd like to say it was my warm, loving, kindly generous nature, (By now Chicchantal will be hurrumphing!!) but itís probably because I smell so fascinatingly of cat!
We crossed a ride, and I stopped to take a photo of the view. You really would not believe you were less than 10 miles from Central London!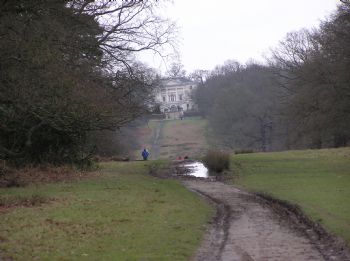 By this time the rain had settled down to a steady heavy drizzle, and we decided enough was enough, and headed along beside the road to the nearest gate, which proved to be Robin Hood gate, coming out beside the A3. The first bus we saw was headed back to Putney, so we hopped on and made our way back there, to catch our separate buses home. Six miles, so not a bad walk. Still very muddy, but Iím bored with showing pictures of that now.