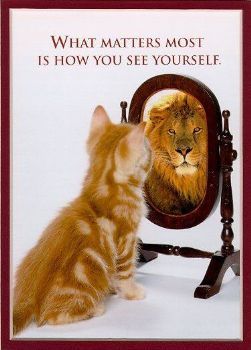 Are you like the tame little kitty that looks in the mirror and sees a LION?
Or -- do you look in the mirror and see yourself as you were at the beginning of your "I'm Tired of Being Fat" Journey? It can work the other way as well -- you may not see those pounds as they are gleefully adding to your rotund figure. You look in the mirror and see youself as you were 10 years ago. The same way you don't notice that a person is aging if you are living with them. Because you see them every day you don't notice the changes.
How do you feel when you meet up with a friend from your younger days -- and suddenly you realize they are OLD? Remember how you watched your food intake so carefully for a couple of months before your "High School Reunion?"
For those of us who are in their 40's and some of us who are long past that number, know just what I'm talking about when I say pounds can creep up on you. Remember when you saw your first gray hair? Probably pulled it out, didn't you? Maybe not too long after that you decided you would 'color' your hair -- just for a few highlights, you told yourself. But one day as you are getting ready for your 'touch-up' you realize that if you didn't color your hair -- you'd most likely be completely GRAY!
Get to be friends with your mirror. Just at a glance it can tell you:
1. You are losing some of that belly fat.
2. Your hips are getting smaller.
3. You no longer have an extra handful of skin hanging under your arms.
4. Your legs are becoming more toned, more definition.
Whereas there are times your scale can lie to you (hmmm - what political party is it associated with anyway?) -- How could I have gained 2 pounds? The mirror doesn't mention the 2 pound gain -- but the scale zeroes in on even an ounce! Now, most people cannot tell just by glancing at you that you ate a whole bag of potato chips last night -- and some ice cream too! But both your mirror and your scale know about it -- but it's all too easy to ignore as we glance in the mirror and turn our head so we don't see the scale.
Now that I've made you think about how "your" reflection looked this morning -- doesn't it make you want to go out for a brisk walk -- or a stroll on the treadmill?

where are you?