Not Discouraged!
Saturday, February 09, 2013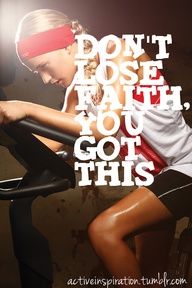 Today was my weigh-in. I ended up gaining a pound. However, I am not discouraged! In January, I did my detox where I lost 10 pounds. So, gaining a pound is not too shocking! I will continue my workout plan with Les Mills' Combat along with ChaLean Extreme. Also, into the equation, I will continue to Eat Clean as well.
I am going to continue to keep the faith in myself. I see the changes in my body! So, I may not have a victory this week over the scale, but I do have a few non-scale victories. First, I worked out on my scheduled days. I love Les Mills' Combat! I feel so empowered after each workout! It's not easy, but if it was easy, then everyone would be doing it! Next NSV, I have ate for the pass 5 days within my calorie range. I have increased my protein intake per the Eat Clean lifestyle. I will need to make a few adjustments this upcoming week.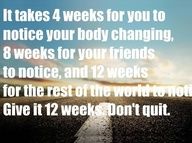 I know with change, comes work! I am willing to do the work despite the ups and downs that come with weight loss! Like I mentioned above, I know this was not going to be easy! But if it was, then everyone would be doing it: everyone would be working out and eating well. Of course, everyone is not doing this! So, I will keep my head up and my shoulders back, because I can do this! I did it before and I will do it again!