I found out on Friday morning that the person I wanted to do a post-doctoral fellowship with -- wants to meet with me!!!
On Monday...
I'm so unprepared! I literally don't have a pair of dress pants that I like, flat shoes, and I need to read about 40 research articles she's written -- look up several post-doc fellowship grant applications I can apply for -- and try to make a rough sketch of a grant application based on research she proposed in a grant I saw because my boss reviewed it... All by Monday.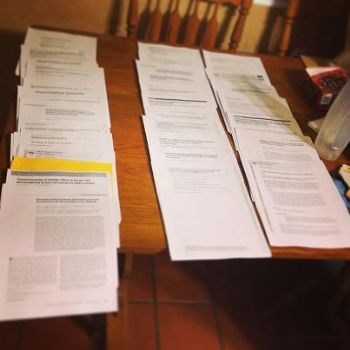 Friday I printed out all of the papers I thought I would try to read. I'm probably overestimating what I can get done, but hey -- I'm gonna try.
I also went clothes shopping with my friend Krista (IMNGUARD) to look for some dress pants. Of course the only pair that I liked in New York and Company weren't in my size (and I tried on every style they had). I had sticker shock at Banana Republic... I had coupons and rewards dollars, but I just would rather shop at outlet prices! I also looked at the GAP -- they only had ONE STYLE of pants that were long. That was a common theme. Short, cropped dress pants are everywhere! Umm... I'm 5'10", I have a scientific job interview... I need long pants! Ugh...
I did get some flat Anne Klein shoes at Nordstrom Rack to wear though. I'm trying to break them in now 'cause they're kind of slippery. So I just need pants.
I guess I should also run to Office Max and get a professional looking notepad binder to hold my papers in and stuff so I don't look like a hot mess. I've been going to a lot of "how to get a job" and "how to interview" lectures lately, but having to whip myself together in three days is kind of nuts.
I decided to skip the Mardi Gras parade today. Its just not as important as buckling down and getting research papers read. I still need to get pants though or else my head will explode. I'm going to try a different mall to see if the NY&Co has my size pants, and if not -- head over to the outlet mall to see if Banana has anything over there. Hopefully some long pants. Heck I'll just check the department stores at the mall too -- save myself the trip driving. Poor TJ -- he's going with me. That boy is being really nice. He will even go shopping with me! Won't hold my purse though unless I ask reeeeeeeally nicely. Well he might today since I've still got a broken wing.
My parents just got up -- they're going to go down and work on my house. There's something leaking in the attic, staining the living room ceiling. It only happens when its cold... but not when its raining?? My dad thinks there's ice somewhere up there, and not a real leak, but he's going to go poke around. The carpet is ordered for the 23rd -- so soon enough my house will be on the market and that will be one less thing on my list. I feel kind of guilty making my parents work while I'm in StL... but then again, now I'm going to be prepping for a job interview, so they're happy.
Tonight is the Blues game with TJ and some friends of ours. The boys thought they had Club tickets that came with free food and beer, but I just can't find any info on it anywhere... For as much as they paid for the seats, they justified them by the amount of beer they were going to drink... and crappy food they were going to eat. I still hope that's the case, but if its not, then I won't feel pressured to eat as much.
Sunday I'll be preparing...
Monday I'll be preparing...
And then *fingers crossed* she likes me, she really likes me! Or at least would let me write a few grants for her and if I get them, join her lab (such is life).
I would just love to have a job after grad school, that would be one less thing that I have to worry about... And getting the house on the market will be one less thing to worry about...
I talked to my boss finally about my arm wound not healing. He had no idea because I've been hiding it from him. He response was more along the lines of, well if he say have surgery, have surgery and just delay graduation. Then a lot of blah, blah about how I've changed for the better physically and emotionally since I came to grad school and luckily I got outta there when he got a phone call and it didn't get super awkward. So I did set dates for my committee meeting and thesis defense. I haven't heard back from ONE of the members, but everyone else can go, so hopefully he will respond soon. Or else, I'll have it and he won't make it (shucks!).
The end is near... hopefully my future is starting to show up more clearly now.