I got this THREE times yesterday in a span of two hours. It is funny the look of concern and the amount of passion that came with those words. Ironically, no one EVER told me not to GAIN anymore weight when I was almost 300 lbs! My mom (who is getting sweeter in her old age

) called me and told me to stop by her job to pick up wedding money (gotta love that!). My mom does private nursing for the owner of one of Nebraska-s largest companies. The wife is the sweetest, kindest, most genuine person you would ever meet. I had every intention of just stopping at the door, grabbing the check and running errands but when my mom answers, she says, "Come let Fran see you." I was like okaay. So I walk into Fran's bedroom and she says, "Oh my word! Look at you! You look perfect. You don't lose ANYMORE weight, you hear?" When I told her I wanted to lose just 20 more, I thought she was going to fall out of her chair. She ADAMANTLY told me that is too much and went on to tell me that I basically will look like a bobblehead. Fran is the Jewish grandmother that I never had (mine is Hungarian) and so I just smiled and hugged her; she told me I was beautiful at my heaviest and she will always tell me I am beautiful because she is just that type of person. Then my mom's co-worker says that I am at my limit and that I can workout to tighten up, IF I WANT, but losing weight is a no no.
Right before stopping at my mom's job I had gotten my wedding makeup done. I felt great and loved it but couldn't get a good pic of it. After leaving my mom, I wanted Derrell's mom to see my bridal face. I catch her as she is pulling out of the driveway. I run over and jump in her car and she says, "I almost didn't know who you were! Now that is enough. You are skinny enough, no more. You done went and lost your butt." Now THAT is a true statement and I am not pleased with that. Once it gets warm outside and I can start my walkabouts, those hills will help the bootay form. But anywho. She told me my makeup was gorgeous and as we parted ways, she yells once more, "Don't you lose another pound!" WTF???
Ironically, Right after that I run into two people that I haven't seen in a long time. One, a girl I went to school with, her mom was passing me in the grocery store. I look straight at her and say "Haay!" She looks at me for a second with a confused look. Then I say it again and she looks stun and says, "Oh my gosh! You look awesome!" We talk for a second and part ways. I then run into my brother's old friend and she also tells me I look good. The moral of the story: You can't please everyone.
Before I leave, I got an idea from MISSB8604. She had tried on a pair of jeans that were a size smaller in January and took a pic and then tried them on again 30 days later and took a pic. She says she had no losses in inches or pounds yet in the first pic, the jeans wouldn't even button and in the second one, they were buttoned and zipped. I have a pair of skinny jeans that I bought in a regular size 14 a few months back. When I first got them, they wouldn't go up past my knees. In December, I was able to get them to mid thigh. I haven't tried them on since. Inspired by my Sparkler, I grabbed the jeans and the camera phone to document how far I could get into them. And what do you know??? They came up ALL the way, buttoned AND zipped (it took a lot of deep breathing).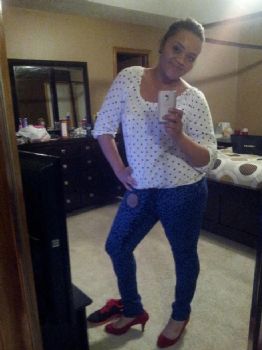 P.S.
My old red heels are now too big!