I received a number of different responses to my blog yesterday, and am compelled to add on a bit. Several people from other countries than the US told me it was against their health codes for a Restaurant or Hotel to let anyone take home left over food for health concerns. That really does make very good sense, and would be great if they only serve a normal portion of everything... 3 to 4 ounces of meat, 4 to 5 ounces of fish, normal 1/2 cup servings of vegetables, in other words healthy serving sizes. They also should only be charging for those sizes as a result. In fact I would really go for such a rule or law here in Colorado or the US if they did that (normal serving sizes). But in the US, I have rarely found anyplace that serves a normal serving size. Ironically, this Hotel did give us only 1/2 cup servings of vegetables, and I was happy about that. However the salad they gave us could not have been 3 leafs of lettuce total cut up (which on one side was nice, since their non-healthy salad dressing-not reduced fat at all- only required about two teaspoons to be adequate).
I had several comments about Buffets and All You Can Eats, and I would have understood that in those establishments, there is no carry outs. This was a sit down, served to you, wanted or not, no choice 4 course dinner. I find it absolutely wasteful to purposely serve a portion of meat that is very obviously, at minimum, twice the portion size it should be!!! And then to have such a policy that does not allow a doggie bag!
One of my favorite responses was one that told me that the next time we go there, I will now know I need to bring a carry out bag to put the extras in myself! Ironically this was my first thought last night, and then I realized I would not do that anyway. It reminded me too much of a time when we lived in Italy and my mother-in-law came to visit us. I really need to preference this story first though.
My mother-in-law grew up in South Italy in the early parts of the 20th Century (1916 to 1932). Her family was extremely poor, and I am sure she knew times they had no food. Her immigration story to America was when her father died suddenly of an apparent heart attack in 1932, her mother called for her and her younger sister to come to America, where she was living and working in the sweat sewing mills of New York. Her mother had come to America to make money to send back to her family in Italy.
When my mother-in-law came to visit us in Italy in 1979, it was her first time back since leaving the country in 1933. She still had one brother living there, and he lived in the Noth now. We knew him well, because the family had kept good contact over the years. He was in the Italian Army when his father died, and therefore remained in Italy through all of WW II. He had three daughter (my husbands cousins) whom we also got to know while living there.
While she visited with us we took her back to her hometown to see what it was like all these many years later. On the trip down, we had stopped at a very nice restaurant one evening, and my mother-in-law brought with her a huge purse that appeared to be pretty empty. We soon found out why. She started putting all the left over food in her purse (wrapped in kleenex she brought with her since they only had cloth napkins on the table). She put left over bread and fruit and almost everything but the plates and silverware into her purse. My husband and I were mortified. It was only years later we could laugh about the incident. But she did not put anything to waste. Most food that needed refrigeration to keep, she ate later that evening. The bread and fruit she ate across the next day.
But that was the first picture that came to my mind when I thought about bringing my own "doggie bag" to pack up myself. So guess I will just have to hope that someone in the kitchen on clean up, took those leftovers to their dog, a shelter, or gave it to someone or a pet that was hungry. Because the other side of "Clean your plate!" was 'Don't forget their are poor starving children in China"! That one, I took care of myself.... my husband and I adopted a 2/1/2 year old from Seoul, So. Korea in 1984! He is our youngest son now 32 and back living in Seoul and teaching English in a Korean University!!!!!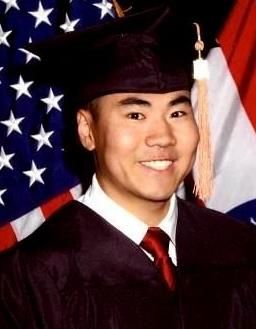 Thomas Graduation from University of Missouri St. Lois in 2004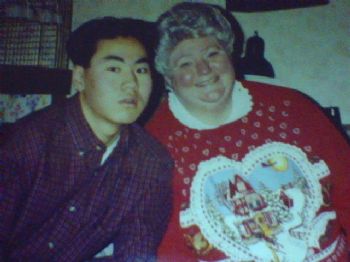 Thomas and I Christmas of 2003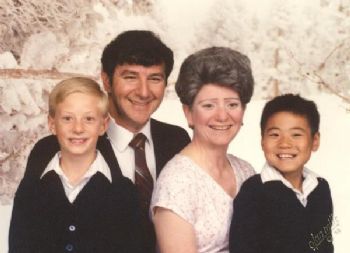 My Husband and both sons and I in 1988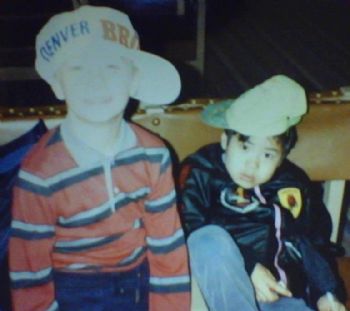 My son's Thomas and William in about 1987
Both my son's, my husband, our Parish Priest and I on January 1, 2012 for the Renewal of our Vows on our 35th Wedding Anniversary