Quote of the Day: "Life is going to give you just what you put into it. Put your whole heart in everything you do." (Vivian Baxter)
I know some of you are going to get hit with that huge Nor'Easter, my sister and her family are one of those people. We're suppose to get some snow tomorrow to, nothing like that though just a regular normal snowfall. Since it's already chilly outside I thought I'd make some hot cocoa, except with a different twist, white chocolate instead.
I'll be using my huge gingerbread cup, do you know this holds over two cups of liquid in there, WOW! I'm not going to fill it up completely because I have whipped cream to add to it. I also decided to add some of the white peppermint chocolate I made around Christmas time that I use for my coffee to use here.
White Peppermint Cocoa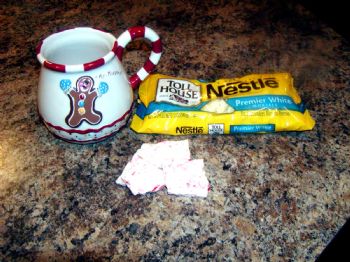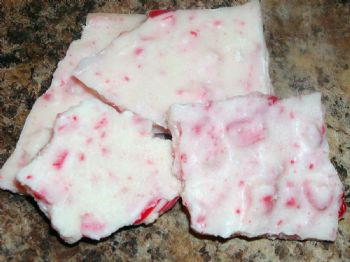 2 cups of milk (fat-free or low-fat)
1/2 cup of white chocolate chips
2 pieces of white peppermint chocolate squares (use a couple of peppermint candies)
Lite or sugar-free Cool Whip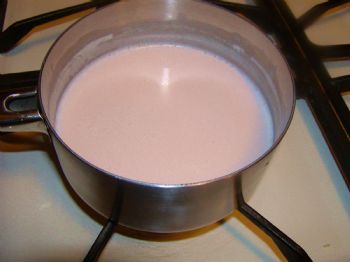 Directions
Pour the cold milk into your saucepan and heat it on medium-low. Add the white chocolate chips and continuously whisk the milk, you do not want to step away because it could boil over if it gets to hot. Add the peppermint chocolate or the peppermint candies. It turns the milk to a light pink color, very pretty. About 6 to 10 minutes later it should be done. Pour into your favorite mug and add a cup of dollops of whipped cream and curl up and enjoy!
-*-*-*-*-*-*-*-*-*-*-*--*-*-
*-*-*-*-*-
I get home today and there's a message from my Mom to call her, it's about the dinner tomorrow. I'm already thinking, here we go again we're suppose to get snow tomorrow and just like Christmas everyone wants to cancel. People in my family think I live really super far, but I don't. So any mention of snow falling near me and they think a storm will come and they will be stuck. Remember Christmas last year was cancelled a week before because we were suppose to have snow that barely fell. I called my Mom up and she said everyone wants to ....... come earlier because of the impending snowstorm. So the get together that was suppose to start around 2PM, is now going to start at noon. Of course this means that I cooked everything earlier tonight, showered and dried my hair just so I can be ready on time tomorrow without having to wake up at 6 in the morning. You know it's barely going to snow now, lol!