So I rushed home from work today all excited because my elliptical was delivered and assembled for me while my boyfriend was home...
I ran upstairs and was instantly pissed off by how the delivery people positioned the elliptical. It's half on and half off of the mat... and no where near the wall at the front so it's sticking out in the middle of the walkway for the room. And that thing is HEAVY so there's no way I am going to be able to help my boyfriend move it. Ugh!
My boyfriend was busy with the guy that was installing our garage door opener so he didn't even go look at it while it was being set up... the guys just came down, had him sign a piece of paper, said it powered on ok but they didn't know how to work it so he'd have to read the manual, and they rushed out.
After I turned the elliptical on I realized exactly why they were in a hurry to get out of there... because this is what I saw as soon as I turned it on...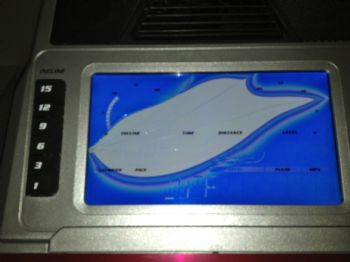 I think my blood pressure instantly went through the roof!!!
I paid extra... a LOT extra... to get them to deliver AND assemble the elliptical so I didn't have to worry about any assembly issues or issues with it not working... and the damn thing is broken anyway.
I immediately called Sole Fitness and explained that I was VERY unhappy... explained the entire situation and they instantly offered to refund the delivery fee and transferred me to the support people where a nice guy gave me two options...
They could set up an appointment with a technician to replace just the screen, but it might take a while.
Or they could send me a whole new console 2nd day air... and he assured me that it only takes about 5 minutes to install.
So hopefully in a couple of days my elliptical will be brand new like it should have been when it was delivered!