How are you doing today?
Me?
Great.
And getting better all the time.
Thanks for asking.
Let's talk about today's word - yes, I've just decided what "the word" will be for today - and that word is "Improvement".
One of my workouts involves doing this Bob Harper "Butt and Balance Workout", which I call my "Anything But Balance Workout" because it is proof positive that my balance, frankly, stinks.
Often with workout videos we see the "Pretty People" executing perfectly this workout or that exercise, exhibiting ideal form and appearing to do all of that with no effort whatsoever.
I've got nothing against the pretty people of the world and I recognize also that there are plenty of videos out there that are criticized for demonstrating bad form or giving bad advice. And I'm fine with seeing how to do the exercise perfectly. It's good to know what it SHOULD look like.
But what really spoke to me in this particular video is that Bob and his three workout "students" are not just easily getting through the workout. There are some wobbles and some balance checks and more than once someone puts a foot down or doesn't extend a leg out in the ideal manner. Bob himself even mentions that it is hard to do and that he struggles a bit with it too.
I think that's an important message to convey.
And I think it is an important message to hear.
We tend to be both TOO HARD on ourselves and NOT HARD ENOUGH.
On one hand, we beat ourselves up when we can't do this or that, filling our heads with negative thoughts and emotions.
On the other, we expect less out of ourselves than we can actually do and then wonder why we don't achieve more.
Let's dispense with that right now.
ONE of your goals and mine should be to strive for IMPROVEMENT in everything we do.
Let me help make that a bit more concrete for you, OK?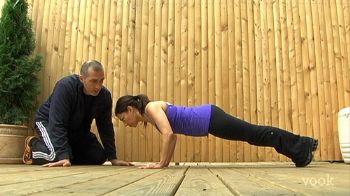 I've written about my adventures with "the plank" in the blog post "Positivity and a 12 Second Plank", which you can read here:
www.sparkpeople.com/mypa
ge_public_journal_individu
al.asp?blog_id=5233852
My goal with the plank is to improve it.
Last night I did a 14 second plank.
That's an improvement.
A two second improvement.
And that is EXACTLY what I'm talking about.
Not perfection.
Improvement.
I know a guy who has a head full of idioms, trite phrases and quotes.
Often when talking with him I feel like I'm having a discussion with a robot who has memorized the front and back covers of all the "self help" books in the world.
I make a game of it... waiting for him to pull out "where the rubber meets the road" or the phrase "Stop the Insanity!".
Good fun.
But one thing ol' Mr. SoundBite quotes all the time rings true:
"If you aren't moving forward, you're moving backward."
Heh... he's "right as rain" on this one.
Improvement is the name of the game because when we don't have a drive to do anything better we don't make progress and we tend to find ourselves going backwards and losing any gains we've made.
Mr. SoundBite would probably use some football term like "making forward progress" here.
And that would be apropos.
Improvement with exercise can happen in numerous ways:
Cutting time off of a walk or run of a known distance.
Adding some number of crunches to your abs workout.
Doing another set or another rep or adding weight to a strength exercise.
Doing one more lunge than last week.
Balancing better on one foot than you have previously.
Swimming another lap.
And, yes, adding two seconds to a plank.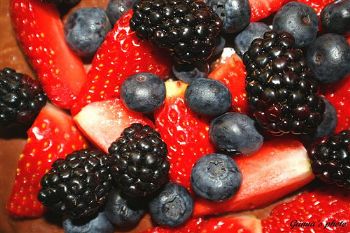 But improvement isn't limited to the realm of exercise.
It can ABSOLUTELY be put into practice with eating.
You can improve on your tracking.
Or your portion control.
In hitting your net target calorie value.
Or reducing or increasing some nutrient number.
You can work on eating more veggies each day.
You get my point.
Finally, you can improve MENTALLY.
What do I mean by that?
Two things, really.
1. IMPROVING MENTAL ACUITY
As we age our brains lose a little ground.
At 45 I'm well aware that I'm not as quick witted as I was at 20 or 30.
That's part of the aging process.
But I'm CONVINCED that I can improve myself mentally by working at that.
And there is a MOUND of evidence which supports the assertion that if we ACTIVELY try to remain mentally sharp and EXERCISE OUR MINDS daily rather than "phoning it in" (Another of Mr. SoundBite's favorite phrases, by the way.) we can, to some extent, counteract those effects of aging on our minds.
Mental acuity is important and I'm absolutely CERTAIN that actively exercising one's mind along with one's body is a KEY component of living a longer, healthier and more fulfilling life.
Some ways to do this:
:: Do Sudoku each day - not the easy peasy one, the harder one. I do "expert" level sudoku puzzles each day. Not bragging, just trying to be challenged.
:: Do puzzles. I'm a big fan of Scott Kim's work. Check out his site:
www.scottkim.com
:: Take a course either locally or online in something that will stretch your mind.
:: Learn to play chess and find someone to play with in person or online.
:: Engage in games which challenge your mind - problem solving games.
:: And eat a healthy diet that gives you a fighting chance of being able to improve mentally. Bad diets are not conducive to healthy bodies and minds.
You get the idea, I trust.
2. UNDERSTANDING YOUR BRAIN
I think that we can improve mentally by understanding our brains better. The brain is a highly complex organ and much of what goes on is still a bit of a mystery to us. Were I twenty years younger, I would certainly go into a career that focused specifically on uncovering the mysteries of the brain and understanding how it works. I may still do that.
But all of us can work on understanding our triggers and our responses to those triggers. We can work to create stronger, better habits to supplant those automatic "brain programs" which have us doing things which we may have done for decades; things which are not healthy and keep us eating poorly, eating too much, exercising too little and making poor decisions.
How can we improve there?
By recognizing what reality is and isn't.
By recognizing what our responses to that reality are.
By realizing that while life "ain't perfect", as they say, it isn't hopeless either.
By understanding that we are far more capable and stronger mentally than we believe.
By DECIDING to focus on making better decisions, setting ourselves on a course for being successful and putting things into proper perspective.
You're going to screw things up from time to time.
But you need to analyze the situation when that happens.
What went wrong?
What beliefs and attitudes were formed because of that?
What mindset contributed to those beliefs and attitudes?
How did that affect your thought life, emotions and behaviors?
This is a KEY COMPONENT in the process of improving your life.
Work to improve your decision making skills
Work to take ownership of your life.
And work to put things in perspective.
Your life likely is NOT the soap opera you think it is.
And even if it is FILLED with challenges, you need to be working to improve it.
Because the alternative isn't good.
And you can do MUCH MORE than you think.
Trust me.
But even more importantly...
Try.
If we FOCUS ON IMPROVEMENT rather than expecting things to be perfect and then wailing and gnashing our teeth when things end up less than perfect, we'll eliminate much of the unmitigated bravo sierra that goes along with unrealistic expectations.
A little better each day.
We can all do that, right?
Make it a great day!
Matt
[Images used under Creative Commons license - thanks to
www.flickr.com/photos/la
bguest/
,
www.flickr.com/photos/gu
dmunda/
,
and
www.flickr.com/photos/vo
oktv/
for making these available for use!]