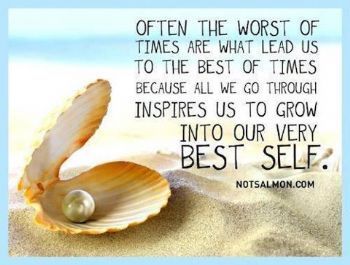 My inspiration today started with an article a friend shared with me a couple days ago. It caught my awareness and planted a seed in my being. The catch phrase for me was "gifts wrapped in sandpaper." I related this to one of my favorite images. That image is of an oyster being "irritated" by a grain of sand and responding by creating a pearl. IMHO, pearls are one of the most beautiful gems.
Today I did some research on pearls. There seems to be some debate in the Internet community as to whether it is sand or a parasite that initiates the creation of a pearl. In my mind, it makes no difference. Either way, something foreign, something irritating, something not particularly healthy to the oyster prompts the creation of nacre that results in a pearl. Here's the explanation I like the best:
"Pearls were created when a foreign body of some sort, such as a grain of sand or a parasite, found its way into a pearl oyster. The oyster reacted by coating the irritant with layer upon layer of the pearly substance known as 'nacre', that gives the pearl its unique appearance and iridescent beauty. This unique relationship gave birth to the natural pearl."
www.costellos.com.au/pea
rls/index2.html
Now you may wonder how my image of a gem ties to sandpaper. My thought is that if a grain of sand can become a lovely pearl, what possibility of even greater worth and opportunity of higher significance can come of gifts wrapped in sandpaper? Would we even for a moment consider accepting and more over opening a present wrapped in sandpaper? It wouldn't be that attractive, it would be irritating to our sense of touch, and wouldn't the sandpaper hint that this gift might require some "work" on our part?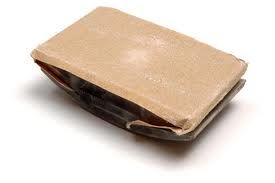 And what if that gift-wrapping included a barbed wire bow? Blood might be drawn! That sounds down right dangerous. Addiction… Am I willing to open that gift??? Another subject of some debate, not within the Internet community, but within me. Do I have a sugar and food addiction? Consider the blog Presents Wrapped in Sandpaper with a Barbed Wire Bow by Howard C Wetsman MD FASAM
addictiondoctor.org/?p=4
61
After reading Wetsman's blog, I'm asking myself, have I been I expecting my gifts to be wrapped and delivered a certain way? Yes. I want them beautiful and inviting, neat and organized, and easily recognizable and manageable! I want prompt "on time delivery."
Wetsman writes, "In active addiction we feel we have to run the world… in recovery, we learn to not run the show… We learn that if we leave it alone and don't try to run it, the world works pretty well."
I'm finding more and more that my food issues and other concerns in my life are all interconnected. I think that is helpful awareness as I try to sort out what is the root cause and what are the symptoms? For I know that treating the symptoms is the Band-Aid approach. I want to focus on deep healing; healing the root cause. So away from food addiction I went and toward thoughts about why I left my job and abandoned my career three years ago.
The article brought me some insight as to why every time I consider returning to the work world, in my mind, the benefits don't surpass the costs for me. When I was working I felt I had to run "my world" but honestly I had so little control of my time, my energy, my life. The only "running" I was doing was "running on empty." I longed for life balance.
Here I am three years later on the other side, and somehow I am still missing life balance! A significant part of me mourns the loss of meaningful employment. I miss the satisfaction of participating along side my DH in providing for the financial well-being of our family.
I ask myself, is it possible to start anew at this point in my life with the intention of life balance, with a career that sparks my passion, and in alignment of my values, purpose, and desires?
Wetsman says, "Life is lived best with our hand open, ready to receive the next gift regardless of how it looks at the time, not with our fist closed on the last thing we got that we really want to keep."
Is my fist closed as I try to keep the ease, serenity, and freedom of not working outside the home?
Affirmations:
I release all rigid thoughts about how, when, and why gifts appear.
I release any need or intention to control or compete with the Universe.
I welcome the lessons and gifts of my difficulties as I move toward a higher level of growth.
I intend to recognize the abundance of lessons and gifts that life offers to me.
I am full of gratitude that sandpaper wrapping helps smooth the rough edges of my thoughts and actions as I open myself to accept the gift.
My hand is open to the next gift regardless of how it comes wrapped.
I ACCEPT THE SANDPAPER; I ACCEPT THE PEARLS.