Since I moved to the States my senses have been constantly exposed to the beauty of this country and the people and things I see & experience every day. Joining group exercise at the gym was one of those things.
I alone have never been able to find motivation to change anything about my weight. Not that I didn't want to. It's just that I am a natural team player - need to give and receive support in order to succeed.
So here I am, doing my body pump classes for 10 weeks already. When I don't go to the gym I am not able to move my butt out of the sofa. There, I transform into a monster. Nothing is too hard or impossible. Push, burn, lift, resist... It has truly changed the way I feel and LOOK.
Now beware, I DO see changes on my body. Nice waistline is showing up, the belly has shrank, I fit into clothes I couldn't even think of...
When I weighed 246 lbs my husband's jeans fitted me but I always had to 'gill breathe' for a day until they loosened a bit. Yesterday I try them on and what a surprise - they fit perfectly. There's even space to breathe in them. No flab 'leaking' from the sides! Captured by the moment I run to try one of my skirts that fitted me just right at that same weight. And miracle... Next to my waist and hip I can put a 2l Coke bottle to keep my skirt tight!
Finally, thrilled by these discoveries I run to the scale expecting to hit big numbers!
And what a disappointment! I am BACK to 256! How is that possible, hellooo???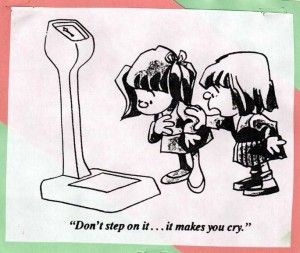 For a moment I felt my efforts have been vain. But it was only a moment!
I declare war! A war to the scale that wants to undermine all I have achieved so far.
Food choices.
Awareness.
Regular exercise. Mind it- hard exercise!
Feeling great!
No back pain.
No elbow pain.
No soreness in the body.
No more 'soft, liquid' arms.
Wearing smaller size.
A Waist!!!
Smaller butt.
Being able to bend.
Feeling 'light'.
Feeling free.
Motivated.
Happy!
No... there's too much at stake to let the scale win. This too shall pass. And I am here to embrace the positive as long as it's working. Even in such a funny way! For the time being I am faithfully lifting and observing change. The scale can wait!