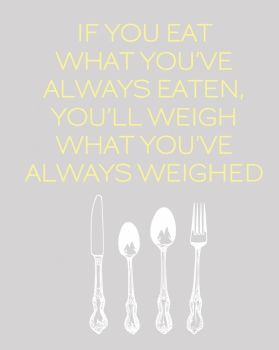 Change gets results every time.
Sometimes I get in my own way by not changing the way I approach food. I have seen the articles touting all kinds of different ways to food combine, or use various cleanses, or even give up fat, carbs, or sugar.
Yes, that's change alright - but it's not change I can live with forever. After a set period of deprivation, I reach a breaking point, and then find myself in the midst of a feeding frenzy consuming exactly those food items I was trying to avoid.
It's why I have chosen to eat in moderation instead of deprivation. Half a portion of something I desire is far more satisfying to me than not being able to have it at all. I practice "halfsies" all the time.
"Trigger foods" are an exception to "moderation instead of deprivation".
For example, crisps (chips) - I do not keep them in the house. If I want them I have to go get them, and only in a single serving size bag. Do you know how hard it is to find a single serving size bag for purchase?
If I am at someone else's house and crisps are on offer, then I either practice moderation instead of deprivation or I ignore them entirely, which is hard, but if I am not feeling like I can eat them responsibly, then I would rather have something else equally tempting instead of over consuming them and feeling bad for my perceived lack of self-control later.
My husband swears they've begun coating them with some sort of super-instant addicting "crack crisp" flavor because he, too, just wants to inhale the entire bag!
At least I'm not the only one and that makes me feel better.