The sugar is SNEAKY!
February is "Nutrition Month" for me! Yeah and away we go. Love to read and this helps me educate myself about all my choices out there. Sugar can be my hot button. I tend to crave chocolate. I know. Stand in line or try to be a little original, why don't I? NOPE  LOVE CHOCOLATE.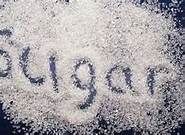 SUGAR IS IN EVERYTHING – I need to break my craving, it's gotten a little silly lately.
So in review I love chocolate, have no trouble ditching soda and I don't sweeten my coffee or tea plus I drink my soy milk unsweetened. BONUS POINTS!! Fast food might happen 12x's a year and it's usually a salad or oatmeal from McDonalds/Wendy's. I don't touch their fake nasty meat, chicken, fish – It's disgusting how they are called food. DOUBLE BONUS POINTS!!! SO now that I know what I'm doing right, let's get to what I'm doing wrong. Foods loaded in sugar and sodium.
My food choice variety and sugar intake need some attention. I'm absolutely sickened by the processed foods and chemicals placed in the majority of our foods, even the produce - talk about sneaky!! Now don't get me wrong, husband I don't eat much processed foods, at least not the blatantly disgusting ones. Think TV dinners, Just add water goo in a box meals or Macaroni & Cheese, pop tarts….or the majority of "coupon" foods ** YUCK ** We don't eat out of boxes or frozen meals, foods typically loaded with sugar and sodium. Check these out.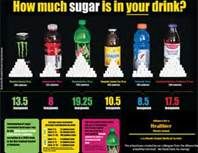 Sneaky sneaky we still purchase items that can be made much healthier and that's what I'm getting at. Great easy example is spaghetti sauce. Why do I purchase this processed in a jar food instead of simply making it at home, I have no idea but I want to change this.
Since spring is right around the corner I want to get more in the mind set of whole foods, natural and locally purchased. I do some of this now but need to do better.
So February Nutritional Goals:
READ every label
Increase fresh locally grown produce (if you can't pronounce it or it takes two minutes to read all the ingredients – DON'T eat it!)
Think:
What's in season
What will store longer
What is versatile
Review your "staple" meals and see what can be made "whole"
Think:
Spaghetti Sauce
Vegi Stir Fry – Change up the variety
Find local health food store (my previous one closed last year)
Think:
Chia Seed
Flax Seed
Hemp Seed
Hemp Milk
Vitamins
Dairy substitutes
Find Mennonite/Amish farm markets (mine is a little small with limited selection, other farms may grow/produce additional items)
Recipes - Sunday is the best day for this so I'll find a recipe or two earlier in the week and prepare/purchase then cook on Sunday.
Think:
Minimal ingredients
Non-Dairy
Fast for after work
Travels well
So this is a really messy rambling blog but it has me at least thinking about next steps and what I really want. Now the tough part is getting my Gazelle on board with the "plan". It can sometimes take years for my husband to "come" up with this great idea that I previously brought up to him and he thought I was whacked at the time.
Remember you can do anything you set your mind to.
Commit to it. One tiny step at a time to live healthier physically and mentally!!
*♥´¨)
¸ .• ♥ ´¸.•*♥´¨)
(¸.•♥´ (¸ ;.•♥ Kelly ♥•¸ .


Sweet Success!! Goals & Planning are everything to reach your dream!
Don't be a gingerbread woman, be a ROCKSTAR!
www.sparkpeople.com/mypa
ge_public_journal_individu
al.asp?blog_id=4670776
I'm that person…Apologizing right up front!
www.sparkpeople.com/mypa
ge_public_journal_individu
al.asp?blog_id=5126935
Resources:
The Hunt for Hidden Sugar 
www.sparkpeople.c
om/resource/nutrition_arti
cles.asp?id=616
The Truth about "Natural" Sweeteners 
www.sparkpeople.c
om/resource/nutrition_arti
cles.asp?id=1203
American Heart Association, suggest that added sugar should be limited to no more than 6-7 percent of your total calories.
Source List:
www.goodkarmafood
s.com
www.livingharvest
.com
www.organicvalley
.com
www.pacificfoods.
com
www.purelydecaden
t.com
www.silksoymilk.c
om
www.tastethedream
.com
www.westsoy.biz