Thursday, February 07, 2013
When I first started my weight loss journey, I wore a size 26 jeans. I had a pair of Hydraulics that I absolutely LOVED and wore everywhere. When I lost my first 15 pounds or so, my mom and sister commented that my jeans were getting a bit loose. My sister said she had some jeans she would bring me. When I opened the bag of jeans, I found they were sizes 16 and 18. I thought my sister had lost her mind! There was no way I would wear a size 16.
This weekend I was bored so I decided to go through some of my clothes. I stumbled across the bag of jeans my sister sent me and on a whim tried them on. The size 16's fit. I cried.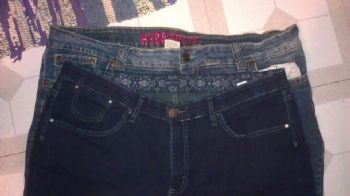 Old Jeans vs. New Jeans