Thursday, February 07, 2013
I had to be awake today. Had to bring my poor little Mariposa (my 12 year old Chihuahua with Congestive Heart Failure) to the Vet today. He has to drain the extra fluid off her abdomine,, about once every 4 or 5 weeks due to her CHF so she can breath easier and feel like eating. They drained off 750 ml!!! That is a lot of fluid for a little dog, a little over 3 cups of fluid! She weighted 6 lbs 8 oz when we went in, but I am sure she is probably around 5 lbs 8 oz. now!!!! It never ceases to amaze me how much fluid she ends up with every month from the CHF.
By all rights she should have died a year ago, but the Vet said she is a fighter! I hope she is still with us next year, but I know there is a chance she will not be. She is on a lot of medication, Lasix, Enalipril, Vetmedin (a dog only medication) everyday, twice a day. I think she has hung on because when we found out she was dying last January, and they did not think she would last even three more months, I changed Vets., and in March we adopted a little 3 month old Chihuahua Female who weighted a little over a pound. We named her Lily Belle, and I think Mariposa's Maternal instincts kicked in (Mari was spayed when she was about 6 or 7 months old before she ever went into heat). Anyway, she took it upon herself to really "mother" Lily!
Then in June we adopted an severely injured little 2 lb Siamese Kitten from our new Vet who rescued it and repaired it's severe injuries and was looking for a really good home. He thought a Pediatric Nurse was the Best Idea, and approached me to adopt it. Of course how could I say No!!! One look and one hold of that little guy and listening to him pur in my arms. Well needless to say, he came home with us and has made his resence known ever since!!!! His "official name" is Prince Theodore Joseph, but we call him "TJ" unless he is in big trouble. And once again, Mari decided she was his Mom too. Nowdays she spends all her time on my lap, barking at those two if she thinks they are causing trouble or cuddling up with them on the bed. Lily and TJ think they are litter mates, in fact we think TJ thinks he is a Chihuahua too. They are really funny together and keep us very entertained.
They all end up in the perfect home, since we are retired and home a lot of the time. Plus we love Cats and Dogs!!! Even my husband, who grew up without many pets, and never really cared much for animals before we were married 36 years ago, now loves having at least one cat and one dog!!!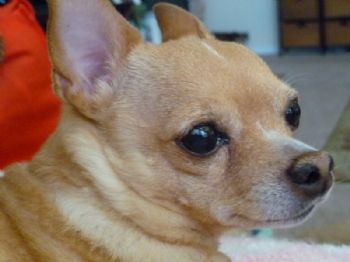 Mari
Lily & TJ