OUR PASTOR IS LEAVING FOR MONTANA.
Wednesday, February 06, 2013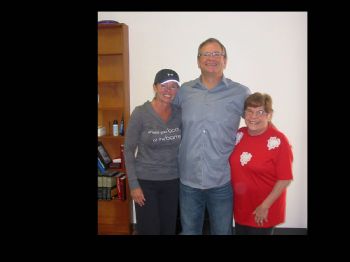 This is a picture of our Pastor Paul and his wife, Debbie Holland and me. They are newlyweds as of Dec. 30 and are wonderful people and good friends. You see the love of the Lord in all that they do. Paul accepted a call from a church in Helena, Montana and truly believes this is where God wants him to go next. We had him for 2 years and he said when he came here he would stay until he felt God calling him elsewhere. Paul's family lives about 35 miles from where his new church home will be. Our denomination is First Christian Church (Disciples of Christ) His last Sunday is Feb 17. They move on Feb 22 and they start their new life on March 1 in the church. Please keep them in your prayers.
Also I am asking for prayers as I am on the search committee as we pray about God leading us to a new minister. We pray for one that will continue to lead us forward like Paul did. We need one that is Biblical, first. Paul's sermons were right from scripture. He is a very good teacher and shepherd. He teaches 2 Bible studies a week and we are just starting the book of Job tomorrow. We pray for understanding of that book. We pray for wisdom as we learn all that Job had to endure. Satan was allowed to do anything to him except kill him. Job never lost his trust in God. I pray that I can be as faithful as Job through any circumstance.
Looking forward to Saturday as I belong to a women's group and we have our meeting and then go out for lunch afterward. This is a wonderful group of women. There are about 25 of us and we have a wonderful time when we get together every month.
Last Saturday 8 of us went to a great variety concert at a Woman's Club. The musicians are all professionals and most have degrees in music. We truly enjoyed a lot of talent. The proceeds of the concert helps go to a scholarship to a student who wants to continue to study music in college. They have to go through 2 levels of competition to see who wins the scholarship. I remember being in band competitions in high school, but not for scholarships. It was just to be recognized for your talent. I made Regional and State Band in both my junior and senior years of school on alto sax and made first char, first part in each one. My Dad was a music teacher and a judge then and of course he had to disqualify himself from judging the saxes since I was his daughter. They were fun years.
Max sends a loud MEOW to everyone and said to check out his new photos. He continues to be so humble about how handsome he is...Not humble, but handsome.
Love,
Max and Elayne.