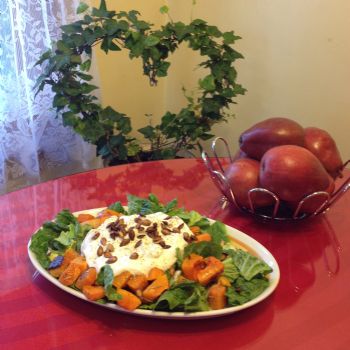 Even though the last few days I've been bingeing on Trail Mix and any other food I could get my hands on while overindulging in Downton Abbey seasons 1 and 2, I still deeply and completely love and accept myself. Today I began again aligned in the easier direction to weight loss and my overall sense of happiness and personal fulfillment.
I started my day with a green smoothie made with Kale, frozen strawberries, cranberry juice, flax seed, and a bit of stevia. I called my mom who is just recovering from a nasty bout of the stomach flu. While we talked, I made the bed, folded two baskets of clothes, and emptied and loaded the dishwasher. I thanked her for helping me get so much done!
Inspirational reading called to me, so I read for a bit and took notes. My goodness, I am being inundated with miraculous messages being sent my way. One of the concepts being discussed in today's reading was synchronicity. I am experiencing the flow of synchronicity into my life.
A handful of my SparkFriends have mentioned The Four Agreements by Don Miguel Ruiz over the last few weeks. It keeps being brought into my consciousness. Yesterday a friend at our library offered The Four Agreements Companion Book to me. It was a donation to the library book sale and she thought I might be interested. Wow!
Yesterday another friend shared an article with me from Essence magazine. I quickly glanced over it. A subtitle "Bless The Gifts That Came Wrapped In Sandpaper immediately caught my attention. I love the concept that an oyster transforms an irritating grain of sand into a precious pearl. I could see a correlation between that thought and one of a gift being wrapped in sandpaper. I promised her that I would read it later.
www.essence.com/2011/11/
21/stressed-to-blessed-lis
a-nichols-magazine/
Needless to say, I left without taking the article as our conversation had moved on to other topics. This morning I was unable to make contact with my friend, but upon an Internet search, not only did I find the exact article, but another entitled Presents Wrapped in Sandpaper with a Barbed Wire Bow that I will be sharing with my Sugar and Food Addiction SparkTeam.
addictiondoctor.org/?p=4
61
Today after my inspirational reading, and a delightful long soak in a hot bath with a candle burning (yes, I was into serious self-care this morning), I decided that Butternut Squash Soup was my craving for lunch. I cut up the squash, cleaned the seeds, and put both into my oven for roasting.
Meanwhile, bright sunshine called to me to come outside. Yes, of course, 15 minutes of natural vitamin D production sounded like a healthy decision to me. Being that today was trash day, I could use the time to walk up and down the driveway three or four times returning the now empty trash cans and recycling bins to their proper residences.
The walking stoked my energy level and the next thing I knew, I was shoveling the snow from my driveway. As I shoveled, I rehashed a previous night's argument with my DH. I had plenty of time to clear my anger along with the snow. It was healing yes, but I still felt a bit wounded. I knew I needed some additional work in this area.
I went back inside and noticed a faint smell of smoke. The timer hadn't yet gone off for the roasting squash, but upon checking the oven, I noticed that some of the seeds had popped onto the bottom of the oven. Hmmm… note to self: better find a way to contain those little morsels next time.
Yesterday I shared one of my self-limiting beliefs with one of my friends. I told her that I always follow a recipe exactly and I don't feel confident experimenting with cooking. Those words played through my mind today. A miracle happened. I thought to myself, "Why that's self-limiting and it doesn't have to be true. You can transform that thought and create new behavior that serves you better."
So here's my creation:
Romaine, roasted butternut squash, Greek yogurt, roasted squash seeds, and a healthy sprinkling of black pepper. It was supposed to be soup! "My Salad" was yummy! Next time, I will grill the romaine a bit first. Hah! No recipe and I'm experimenting!
As I finished lunch, my DH called. Hmmm… to apologize? Which one of us needed to apologize more, I wondered? We avoided the topic of last night, but had an upbeat conversation. Just before he had to go back to work, he mentioned that he had sent me an email. I said goodbye and logged on to find his email. The positivity of our conversation continued with his email. He shared a mutual plan with some recommendations to address our argument from last night. He signed the email:
"With many Blessings and Love,
DH"
Healing tears fell down my cheeks uncontrollably. Why would I try to control that which restores and sustains me like a good old cry? Happy tears are what my granddaughter calls them. I love that man and I am filled with gratitude that he embraces the title DH.
My love and gratitude "full fill" me like no Trail Mix or Downton Abbey episode can. I wonder at the miracles in my life. How have I journeyed to this place of gratitude, wonder, and love? Today was supposed to be about starting over on a weight loss journey. It was supposed to be soup! Thankfully, life has so much more to offer me. I am open to the miracles and abundance.