Wednesday, February 06, 2013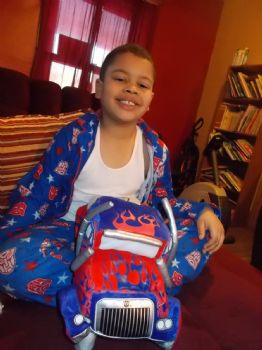 HEEERE'S MY BIRTHDAY BOY!!!
Okay. So, it has been a high stress week, filled with not-so-great eating choices, but still better than the past. (I reiterate-"Progress...not perfection.") AF made me have the crazies-more so than in the past, which is a cause for concern for me. Like, I didn't feel at all like myself, and almost made a huge mistake over something REALLY petty and stupid. (Aren't those words synonymous?) I was financially blessed. I won't go into detail about that, but I am incredibly thankful-but still, having money can be nearly as stressful as not having money. I almost started smoking again, but my kids' father and their big brother insisted I didn't need a cigarette, and I so appreciate them for that.
In spite of the horrible week of eating, I think...I think I lost at least a pound. I have to wait a couple days for my official weigh in, but, I'm kinda actually stoked about it.
Today is my son's seventh birthday. We're doing pie and ice cream since we had cake on Superbowl Sunday. I have furniture coming today, so I hauled the old pee couch out to the curb BY MYSELF. (*flexes biceps*) The Total Gym should be coming tomorrow.
So much to DOOOOOO!!! AAAUGH!
Pics of my SEVEN year old baby *cries!* and after pics of the living room to come!