Highly sensitive person...
Wednesday, February 06, 2013
Over the last week I have called myself "Anxiety-driven" a couple of times... I donīt like it but think it is adequate and think I need to deal with this inside that contains a lot of stress. On an intellectual level I canīt see that there is something really wrong with anything in my life. It is what it is and compared to many I have an exiting, inspiring and wonderful life. I canīt deal very good with my overweight and I canīt deal that good with my postponing and other defects – but all in all I do not harm people or the environment ( well I do but less than many others living in rich countries) and I am contributing more than I withdraw... but it is not enough to my mind. There is a lot of self-loathing , insecurity and ...oh my god - LOOK at this!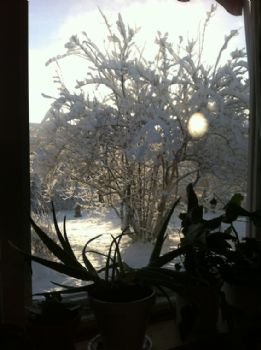 The sun came through the clouds an the view through my kitchen window instantly became magic!
Hehe, the mental inside got off track for a moment there...anyay - I am reading a book about HSP-people - highly sensitive persons and as 20 procent of the population is said to belong to the HSP category, about half of those HSP is also very extrovert and combine high senitivity with a sort of reckless exhibitionism... that would be me. Letīs see if this book will give me any tools to feel better about things! It is written by swedish authors (the translation would be something like "Donīt drown in your emotions") but I am sure there are a lot of english self-help books on the matter as well.
2 dm of snow has fallen, very beautiful and good for the Swedish Rally that starts tomorrow. I donīt like it as I donīt like winter, but have to admit that it is really really beautiful! Just wish I did not have to drive or walk - walking in nature is ok but in town...muddy, dirty, slippery...and driving is dangerous, I do have winter wheels of course but it is still a little scary.