You know that head-shaking move a cartoon character will do after he gets punched in the face? Where he was reeling, seeing stars, then he shakes his head and his lips flop around loosely and after that he's back to normal? I think I'm almost there. Raspberry-lip-flapping sound and all, haha!
Thanks for all the supportive comments after that last post, my peeps! (OMG Mar/Rachele, that isn't where the chickens reference comes from, is it???!?!?! Hahahaha... I always thought it was because I was calling people "chica"... so "peeps" is extra funny!)
I am feeling much better already, after having that little gripe. And I walked halfway across downtown Vancouver after work and didn't die. I even walked down some stairs. *gasp!!*
I was feeling a bit rough this morning, feeling like... you know how after you have a bad cramp or charlie horse, the muscle aches a little when you use it after? Just a phantom ache? Well I could feel that in my heart for a bit this morning. I'm sure I was imagining it. Anxiety and nerves will mess with you. But I'm not feeling or imagining it anymore, I feel mostly like normal, and had to remind myself not to speedwalk through the SkyTrain station on my way home from work.
Cutting myself some slack in the workout department and focusing on my diet is exactly what I need to do - you're so right Mar & Grace. I could use this as a chance to slack off, but that won't make me any happier. I am going to go track my calories for the day, and I will track the little mini-slice of leftover wedding cake... yes, Max and I busted out a fat slice of that from the freezer to share last night, and yes, it was still holycrapdelicious. One of the plastic-wrapped wedges from the back of this picture, which is of the leftovers we brought home from the wedding: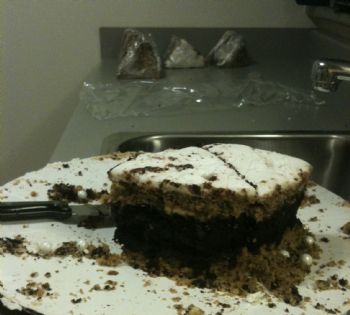 *drool*
That was such good cake. Eff, I'm talented. I should really just go make cakes and forget this whole engineering thing.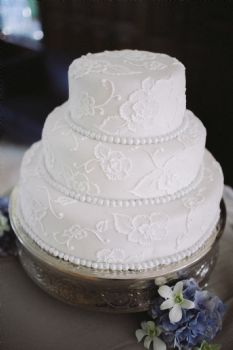 ANYWAY.
Right. Sorry, kinda ADD there. I also just tentatively booked a hotel near the Gorge during the Sasquatch Music Festival. Because come on.
www.sasquatchfestival.co
m/
I know camping is included, but I went a few years ago and we stayed in a motel and it was GLORIOUS having a shower and a bed after a long hot sweaty dirty day, and well worth it.
ANYWAY.
I am REALLY going to go to bed early tonight and try to catch up on sleep. Tomorrow night is the Muse concert (squeee!) and I will be up late for that, certainly! Thursday I have a doctor's appointment... maybe I should just take all of Thursday off...? "Work from home"? Hmm.
Off I go. Hugs to you all, thanks, you're the best!