Oops, Hadn't Intended to Maintain!
Tuesday, February 05, 2013
Yikes! I've got 65 pounds to go and I seem to be on maintenance! Not what I intended. Well, I did put myself on maintenance for December and January. With having gallbladder surgery at the end of December I decided I didn't want to try to lose weight at the same time.
In December I felt so ill that I did very little exercise. Even walking hurt. But now I'm totally healed. I've slowly started exercising. Slowly, because that's what the doctor ordered and my body tells me when I've done too much, particularly my knees. It's hard because I feel great when I exercise, it's afterward that's difficult. I'm learning, but I do need to start pushing myself more now, because I'm not doing enough.
It's the eating part of the equation I'm having difficulty with. I use my food tracker everyday. I even have a balanced diet. It's those pesky little 200 to 300 (or more) extra calories that are keeping me on maintenance. Oh, dear. It's nice to know I can maintain my weight. Truly. Not what I need to be doing here, though.
In other news--we got a new bird feeder. Just in time!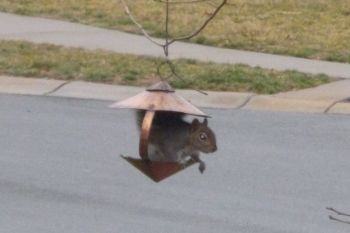 This is not my squirrel and while he seems to be a friend, my squirrel was very unhappy. She chased him off finally, and then she went up and down the tree trying to figure out how that squirrel got in the feeder. What a riot! We've stopped putting food in that feeder. The new feeder is hanging from a wire strung between two trees. I'm sure the squirrels can jump on the feeder if they wanted to, but my squirrel is just not that intrepid, yet.