***loving my hot pants!***
Tuesday, February 05, 2013
You ever have one of those feel good days? One of those days when everything is in place and you just feel like a thousand bucks ( a million is a bit excessive)? I am having one of those days. I bought these red slacks at New York and Co. for just $12! They fit like a gem and my butt looks GORG in them!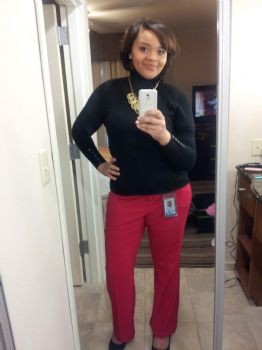 I am getting so close to Onederland ( I am at 218.6

) and I am planning to be there by summertime. I am still not completely content with my body once the clothes come off, but I am loving the way I am feeling with my clothes on. I have been plus-size since I can remember and now I don't know where to shop. Does anyone have any little gems of stores or boutiques that they love? I like to shop online because I like to find different things that everyone won't have. I like glam, girly clothes with structure and a little vintage feel. Well I have to get going. Have a great day Sparklers!