My neighbor invited my husband over to see his Beaver.
Then my husband grabbed me so I could see my Neighbor's Beaver !!!
Wow, I haven't' ever seen a beaver before.
It was MY FIRST TIME.
They are VERY Big !!!
Larger than a cat.
I wanted to TOUCH IT !!!
It looked peaceful, eating the grass in his backyard. Kind of like he was in a Zen zone.
It stared straight at me, kept on eating as I admired his muscular body, really big teeth, humongous tail, and peaceful calm demeanor.
I wanted to reach out and PET him. He wasn't afraid of me, but I was of him. Though I kind of felt like I could of trusted him.
WOW !!!
That was really exciting. I saw my neighbor's beaver. LOL. Giggle. It feels almost naughty.
Well, it wasn't really his. It wandered up from the creek looking for a nice meal of grass.
This Morning I had to have a peek through my fence hoping for another peek of his Beaver.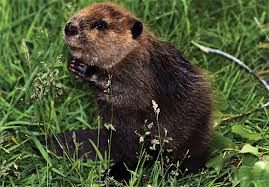 I still have a bug, I feel nauseated, weak, and tired. So my step count is down as my body is requesting REST.
It appears as the beaver is making a home in a burn pile behind our home ON DRY LAND. It is quite some way from the water, so it has a ways to walk to get to the creek. We toss out old fruit that way, vegetable scraps. He was enjoying the left over grapefruit rind after I juiced. It looks like he is making it his home eating the branches at the ends pealing the bark off of it. Who knows. I hope he is safe as we have a coyote that lives back there and foxes.