Juicing and Blending
Tuesday, February 05, 2013
So, I've been juicing for a while and thought I'd post a picture from this mornings drink. It separated before I drank it and I thought it was pretty: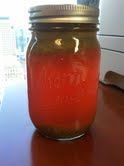 It's strawberry, watermelon, and cucumber. A nice refreshing combination. I typically go with vegetables, but will put fruit in in the morning sometimes.
So, my juicing strategy is to have it first thing in the morning before breakfast and as soon as possible after juicing it so the enzymes aren't lost. They're sneaky little guys and will be gone in 30 minutes or less. Think of an apple browning. That's like losing your enzymes. The vitamins will remain though, so still very beneficial even if a little time passes.
I've read quite a bit about juicing. Now, I can't say I'm 100% positive on what I'm about to say, but I'm pretty sure. If you juice on an empty stomach the nutrients are absorbed very easily and you gain the most benefit. Part of the reason is because there is no fiber left. It's like they're sucked in and are nourishing every cell in your body. You also don't use hardly any, if any, energy digesting it, so your body is taking in the nutrients without expending extra energy.
I do green smoothies sometimes too, but the benefits differ. They are just as good, but in a different way. While juice is absorbed and you soak in the nutrients quickly, blending retains the fiber. I drink these later in the day when I get close to my "I want to eat everything in site" time, which is 2-3PM. The fiber takes longer to digest so you are full longer. You also have no pulp waste. It's hard to juice greens as the yield is low, but in smoothies it's easy.
My favorite juice is carrot, ginger, sweet potato. Never thought you could get juice from a sweet potato but there's quite a bit. Sometimes I'll add cinnamon instead of ginger and it's like dessert in a glass. Awesome!
Anyway, just a little bit on what I've learned about the two. Would love to hear other people's experience and info on it too.
Member Comments About This Blog Post
SHARON10002
I don't juice, but yours looks good!


1679 days ago

CAMEOANDLACE
I like juice and smoothies but aren't there a lot of calories in the juices?

your drink sounds great


1687 days ago

RACEWELLWON


I live to Juice have been doing it for a while now - sometimes its easy to get carried away with calories and carbs so I have learned to be well balanced in that aspects of Juicing - I too love my fresh ginger with pineapple and cucumber - Mmmmmm! So many different varieties of Juicing . I also reserve the pulp of carrot for Carrot Muffins - taste so fresh.


1687 days ago

BEAUTIFUL_REINA
Me too!! Usually veggie smoothies but early in the morning I like the fruit juice. I keep meaning to try your sweet potato-ginger-carrot and keep forgetting. I'm going to get some sweet potatoes this weekend just to try the juice. It sounds so GOOD. I never thought it could happen but I actually CRAVE the green smoothies now. =)


1688 days ago

RYDERB
I LOVE juicing! I love beet, kale, apple, ginger, spinach, and pear. But I love it all. I haven't mixed a juice I didn't like.


1689 days ago

LYNSEY723
I have yet to fall in love with smoothies... and I haven't tried juicing yet. Good info - something to consider!!


1689 days ago

KALIGIRL
Very pretty!
Tried juicing, but prefer to get my freggies whole.


1689 days ago

ALICIALYNNE
I had a green smoothie for dinner last night! Spinach, frozen peaches, frozen strawberries, and 2% milk (trying to up my calcium). I usually add in protein powder, but totally forgot last night!

I LOVE smoothies! I usually make them with almond milk rather than cow's milk, but like I said... calcium. The almond milk adds a sweetness that I really appreciate.

If you go to the Raw Foodies team, they have a whole discussion board for smoothies. Some stunning recipes on there!


1689 days ago

BLITZEN40


Your juice in a jar looks delicious! I didn't know that enzymes were reduced over time after juicing. I always thought that as long as you don't cook or freeze it, the enzymes stayed in place. Good to know. TY for sharing! I recently tried a smoothie sample at Costco made from spinach, banana and apple juice. They were promoting the 450 horsepower blender they made it in. The smoothie was so good it nearly warranted the insanely overpriced blender, but in the end the voice of reason won out. That smoothie was REALLY good though!


1690 days ago

IRP1114
Lol Kim that is funny. My hubby also just turns away if the smell is strong :-D!


1690 days ago

68ANNE
I didn't know about those little enzymes running away.
So you don't use a blender, you have to use a juicer?


1690 days ago

ALEXSGIRL1
i usually juice only on the weekends or should i say smoothies without the icecream . i get up at 4 to go to work and i dont think the wholehouse needs to hear me make my smoothie, but i do feel great when i do it.


1690 days ago

KIMCOLLINGS
Hi WallaHalla, I haven't tried blending sweet potatoes. Not sure that they would work in there, but they juice up very nicely. They give a creamy texture to the drinks. Raw and everything. Kind of crazy! From what I've read about citrus fruit, they recommend peeling them as the peels can be bitter. Keep as much of the white pith as possible though as it's supposed to be nutritionally beneficial. I have read that when you juice, you can leave the peel on lemons and limes...just not other citrus fruits. I do, and they taste great. Love the brightness that a little lemon adds. For avocados, they can be blended but they can't be juiced. No liquid in them I guess. Same for bananas. What are your favorite blended drinks?

Hey Imelda, Such a great combination. Very refreshing. You're so right about the energy it gives you and the immune benefits. So many good things about juicing! I finally got my greens. I got Barleans. Price was pretty good and the nutrients compared pretty well to others too. Sort of tastes like alfalfa though, but it doesn't bother me. Mr. W took a sniff and backed away. I don't think I have to worry about him getting into my greens supply..lol!


1690 days ago



Comment edited on: 2/5/2013 2:11:19 PM
IRP1114
Ooo that does look pretty :-) I do believe in what you are saying. I feel way more energized when I start my day with a fresh juice! Lately I have been sticking to my little cold remedy mix of celery lemon green apple and ginger combo. I crave it now lol! Plus I really do not want to get sick. Ever so I am always doing what I can to boost my immune system. Even more so when I put extra stress on my body with more or longer workouts! I still haven't tried juicing the sweet potato. Need to try that. Thank for reminding me ;-)


1690 days ago

WALLAHALLA
I have learned that I THOUGHT I was juicing, but was actually making smoothies, because I use a blender, and get all of the pulp. I am on a high fiber diet for life, because of my surgery, so that is good for me.

I have not tried sweet potato. Raw??? I barely have the strength to cut through them with a knife, I can't imagine them going through my blender. I would love some tips on how to use them.

Some sites say not to use avocado, lemons, or limes, but I love the flavor they add.


1690 days ago

LRB444
You will have to try a green one with cilantro and pineapple. Yum! It's to die for!


1690 days ago



Disclaimer: Weight loss results will vary from person to person. No individual result should be seen as a typical result of following the SparkPeople program.
More Blogs by KIMCOLLINGS