So, I've been juicing for a while and thought I'd post a picture from this mornings drink. It separated before I drank it and I thought it was pretty: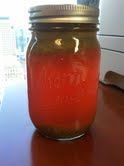 It's strawberry, watermelon, and cucumber. A nice refreshing combination. I typically go with vegetables, but will put fruit in in the morning sometimes.
So, my juicing strategy is to have it first thing in the morning before breakfast and as soon as possible after juicing it so the enzymes aren't lost. They're sneaky little guys and will be gone in 30 minutes or less. Think of an apple browning. That's like losing your enzymes. The vitamins will remain though, so still very beneficial even if a little time passes.
I've read quite a bit about juicing. Now, I can't say I'm 100% positive on what I'm about to say, but I'm pretty sure. If you juice on an empty stomach the nutrients are absorbed very easily and you gain the most benefit. Part of the reason is because there is no fiber left. It's like they're sucked in and are nourishing every cell in your body. You also don't use hardly any, if any, energy digesting it, so your body is taking in the nutrients without expending extra energy.
I do green smoothies sometimes too, but the benefits differ. They are just as good, but in a different way. While juice is absorbed and you soak in the nutrients quickly, blending retains the fiber. I drink these later in the day when I get close to my "I want to eat everything in site" time, which is 2-3PM. The fiber takes longer to digest so you are full longer. You also have no pulp waste. It's hard to juice greens as the yield is low, but in smoothies it's easy.
My favorite juice is carrot, ginger, sweet potato. Never thought you could get juice from a sweet potato but there's quite a bit. Sometimes I'll add cinnamon instead of ginger and it's like dessert in a glass. Awesome!
Anyway, just a little bit on what I've learned about the two. Would love to hear other people's experience and info on it too.