Day Two-- Operation: Fit.
Tuesday, February 05, 2013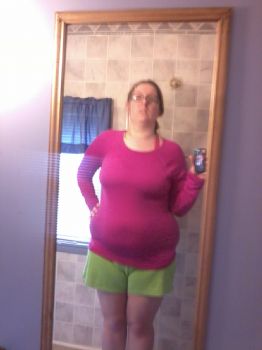 No changes yet, but I'm feeling enthused about this. Also, my motivation grew a bit when I decided to do this. Maybe it's because I want this shirt to fit, and it's for me and not anyone else. I even ate a good breakfast, one slice of french toast and 2 slices of bacon; two things I absolutly love but I didn't go over board with them! I even chased it down with a cup of water and Im working on my second cup now!
It is really amazing at how much can change when you decide to do something for yourself. Now that Shawn broke up with me I no longer feel obligated tochange things for him or for anyone else. Even now that I have a new boyfriend, I dont feel the need to change myself to make him happy. I'm happy right now. Seriously, I feel so much better! I don't feel like I'm being held back, oppressed by some unseen censor, or by lack of encouragement.
Even though I'm not noticing the changes in how I look I am starting to see changes in the way I think. The urge to be independant, and to have this 50/50 relationship, and just wanting to be happy and live a life that I can be proud of. A stong body is a strong mind, and I want that. This isn't about how a shirt fits on me, or if I look good to anyone else, those are just pluses. I want to be strong, physically and mentally, especially if I'm going to get into paranormal investigating, I need to be strong and able to face fears.