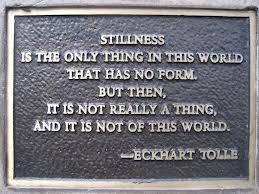 still·ness - noun
a: calm, tranquil
b : free from noise or turbulence
How often to we actually experience stillness? Not very often. The noise and turbulence may change, it may be more soothing and enjoyable at times than others, but actually free from noise? Then there's that internal chatter. Even if you've managed to find a place that is truly still, those thoughts begin to run through your head, getting jumbled up. Your brain begins to run away with you and you can't stop it. There's a commercial for a pain reliever/sleep aid that's on TV now, and the woman's mind races while she tosses and turns in the middle of the night with those burning questions like "What if the hokey pokey IS what it's all about?" Exactly.
This morning I was outside and was brought to a halt when I realized I was in a perfect state of stillness. There was not a breath of wind, not a bird, or cat, or cow or dog. The was no train, plane or automobile. I could not hear my heart beat or my breathing. As I stood in place there was no crunch from my boots or rustle from my jacket.
It was...
truly...
perfectly...
still.
.
.
.
No movement...
No sound...
No thought...
.
.
.
The
World
Stood
Still...
For
only
a
Moment.
Stillness...
Tranquil...
Calm...
Free...
No noise...
No turbulence...
.
.
.
Just
Perfect
Stillness
.
.
.
And then the world moved again...
Yet calm tranquility embraces me.
Enjoyed my fun challenge last night - I sketched and was really happy with the results, I'm learning. I used to take criticism to heart too much and instead of working harder or lending a deaf ear I would give up or hold back. Glad I'm learning to use a different approach now.
Still staying off the white carbs for the most part although have allowed a few to slip back in, in small amounts. Am finding I don't enjoy them like I used to, but so far in small amounts I'm not noticing any of the ill effects I was previously experiencing. My hope is that I can eliminate them for the most part, but not feel that I have to do anything overly special if I'm out or do want to indulge in something once in awhile.
I'm finding alternatives that are very satisfying, some favs are beans and quinoa. I feel fortunate on one hand that a friend of mine suffers from gluten intolerance because I have a handy resource of tried and tested recipes. Wish my dh wasn't allergic to buckwheat but that's definitely out in our house.
I'm amazed actually at the subtle changes that I've made that seem to be making a pretty noticeable difference in how I feel and look. It feeds itself too, the better I'm feeling and looking the more committed I become at being careful and accountable. It also makes me braver to try more things. For the most part I don't feel deprived because it isn't all or nothing. I'm amazed at how much the cravings have declined. Cola still a bit of an issue, but I'm still down and I haven't tried the alternatives I said I was going to yet so gotta do that. I have noticed that it is the one thing I will crave at times and if I can't satisfy that craving, when I do get some I really want to binge. Obviously I need to give it up. sigh. I'll get there.
Saw a really interesting TEDx talk today called Hunting Happiness from Karmatube.org - just over 12 minutes so not too long. I found it interesting how Sara Lahey's experience shaped her decisions even as young as 5. I also was intrigued when she realized how she initially felt she needed to help people changed and evolved. So here is some brain food for today.
www.karmatube.org/videos
.php?id=3642