In my "Visualize Your Healthier Self" blog post, which you can read here:
www.sparkpeople.com/mypa
ge_public_journal_individu
al.asp?blog_id=5161591
I listed off a number of future activities I want to do.
Know what the lion's share of those had in common?
A strong core.
Do you know about the "core"?
It's one of those fancy pants terms that trainers and would-be trainers use.
For a little fun, let me use it in a few sentences.
You'll have to imagine that I'm using my "Lunk" voice from that disturbing Planet Fitness guy's locker room commercial about "Gymtimidation".
"You work your core today, brother?"
"Man... that AbDominator workout shredded my core!"
"You gotta strengthen your core!"
I can imagine ol' Lunk carrying on about his core in future commercials.
If I were Planet Fitness, I'd definitely keep him around because he's so gosh darn ridiculous.
But seriously...
How's YOUR core?
Mine's pretty rotten, quite honestly.
So the "core", for the 12 of you on the globe that aren't fully up on your strength training parlance, encompasses the muscles of your midsection.
Your belly.
And your lower and mid back.
And your hips.
Basically, your body minus your arms and legs.
I'm sure someone will be inclined to correct me.
Feel free.
But my point is that this is a section of the body that we simply tend to neglect, much to our own detriment.
I'm CONVINCED that much of the back pain problems that folks have would be eliminated by having a stronger core.
Here's another term that get's thrown around: "The Posterior Chain"
Fancy, huh?
Yeah, I like it... it sounds so learned and important when I say it with my "air of superiority" voice.
You can claim that phrase for your own.
Let me give you a few sentences you can throw around at the Starbucks while you're sipping your Chai Tea with friends after you've been to the gym.
"Are you doing kettlebell swings? They are simply FABULOUS for the posterior chain!"
"Oh, let me pick up that bag of fair trade coffee you dropped. I've been working on my posterior chain, you know."
"Why, yes, this IS a new outfit. Thanks for noticing. Since I've been focusing on my posterior chain, I've been able to fit into lots of new clothes."
Try to sound as pretentious as you can when you say those, OK?
I mean, you ARE drinking Chai Tea at Starbucks, right?
Kidding, of course.
I like Chai Tea too.
So, the posterior chain is the group of muscles that include the large muscle on the back side of the upper leg - the "biceps femoris", the glutes, the back and the muscles of the shoulder - trapezius and posterior deltoids.
Again, feel free to correct me, folks.
The "core" and "posterior chain", in my opinion, are the PRIMARY muscles you and I should be focusing on.
Because we are upright creatures who walk around on our two legs and need to be strong for balancing and bending and twisting.
And because we tend to sit a lot these days - at least most of us do.
And having a weak body leads to injury.
What can we do?
Eat better, of course.
But, focusing on exercise, let me give you my two pence on the topic.
First, there are a TRUCKLOAD of videos available here on SparkPeople that focus on the core.
You can see those here:
www.sparkpeople.com/reso
urce/exercise_demos.asp?ex
ercise_type=core
And I think the kettlebell is a terrific piece of equipment for using as part of your workout. You can learn about the kettlebell here:
www.sparkpeople.com/reso
urce/fitness_articles.asp?
id=1222
The added benefits to working these muscles - beyond being stronger, reducing aches and pains and helping to prevent injury, of course - is that you'll burn a lot more calories with muscle there rather than fat AND you'll find clothes fit better and you will look - AND BE - more fit.
Those are good things.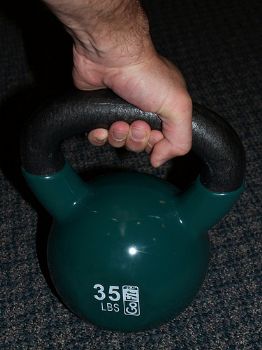 (Photo courtesy of climbnh2003
www.flickr.com/photos/ed
ventures/
via Creative Commons - thanks!)
It's no secret that I love my kettlebell swings. It works the posterior chain and it is a great cardio workout. A one-two punch of a workout in my mind. I'd encourage you to find something - perhaps kettlebell swings - to add to your workout program that strengthens your posterior chain.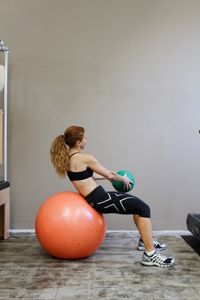 (Photo courtesy of o2Max
www.flickr.com/photos/o2
max/
via Creative Commons - thanks!)
And the good old medicine ball is an inexpensive and killer piece of workout equipment. You can work your core muscles like crazy with that ball. I'll be adding the "Wood Chopper" exercise to work my abs and obliques.
Try this phrase on for size:
"Why, yes, I've been working my obliques. Thanks for noticing."
Nice, huh?
What I like specifically about those two pieces of equipment are that they are inexpensive (Each was about $50) and take up very little space both in storage and in use. They are highly portable, durable and budget-friendly.
Definitely worth a look.
But even if the KB and MB aren't your thing, I encourage you to focus on those two muscle groups, incorporating a couple workouts per week that focus on them into your workout rotation. That's what I'm doing during this next 13 week period.
Make it a great day!
Matt