Tuesday, February 05, 2013
fitnesstrainingforlifean
dadventure.blogspot.ca/201
3/02/30-day-challenge-resu
lts-and.html
HERE YOU GO! At last!
Please click on the link to read your fellow 30 Day Participant comments and feedback! AND of course their awesome results!
I am so proud of them all, to even sign up for a challenge is a great thing!
I am working on the next challenge and it will be March 1st...I know it is a while away but I am working on a few things to make it fun and more interactive! So I can't wait to share it all with you!
As for me, still no coffee, the funny thing is that while off coffee on the challenge my thoughts were of those memory cravings of how good I thought coffee might taste, or I would think " O My! I can't wait to have a coffee!!!" and then when the end of the challenge rolled around and I could have one if I wanted, I just did not have the desire! Now, I wish that had happened with sugar! No , Sugar is still a major, daily battle for me. I have accepted the fact that I can't eat sugar and that I have to stay away from it at all costs. It just sends me into a spin and I don't like that! So I continue to come up with sugar free recipe's that satisfy.
Yesterday I made a "breakfast cake" with coconut palm sugar for the kids, full of carrot and zucchini. It has way less "sugar" in it than a bowl of cereal has and I made it with spelt flour!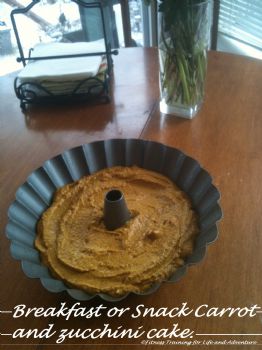 I have not taken a pic of the "after" the oven experience! But the kids like it and they are eating carrot and zucchini and a few dates and some apple sauce - so mom is happy!
Here is the link for the challenge results and testimonials again!
fitnesstrainingforlifean
dadventure.blogspot.ca/201
3/02/30-day-challenge-resu
lts-and.html
HAVE A GREAT DAY!