Monday, February 04, 2013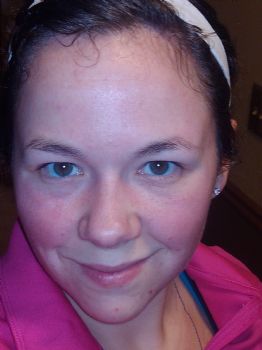 Considering how my day went, I am loving how I look in this picture. I don't know what it has been, but lately all I have wanted to do is eat...nonstop. And today, I pretty much did just that. I ate about 4 cookies and at least 4 mini cupcakes on top of having pizza for lunch, boneless chicken wings for breakfast and popcorn at some point during the day. And to make it even worse, remembering all the crap I had last night! Well, in hopes of slightly making up for it, my family went to Chili's for dinner and I got the "lighter option" steak and broccoli, which it says is only 250 calories. I don't quite believe it, but it made me feel a little better. The reason we even went out for dinner though was so we could go car shopping again and my parents have found a vehicle they like and they are going to buy it tomorrow. It has to have a couple things finalized before they get it though, but hopefully they will have it by the end of the week and so then I will buy their car off of them. It's not quite the kind of car I was hoping for, but it is a car that works and shouldn't die on me within the next two years. So, hopefully by the weekend, I will once again have my own vehicle.
Also, I felt so guilty for all the eating I did this weekend that I decided to do a workout I found on Pinterest earlier today. So I went downstairs and decided to pull it up on the computer that we have connected to the TV so I could see it a little better than looking at a small screen.lol well, it's an older computer so as it was loading, I hopped on the stationary bike for a "few" minutes and ended up staying on for 30, doing a total of 10 miles. I was sweating pretty good and then I did the Pinterest workout on top of that. So, hopefully, I can step on the scale tomorrow and not hate myself completely. lol below I'm posting the Pinterest workout I did and also a motivational quote that I found tonight. I think I'm going to print this motivation out to keep posted on my mirror.