Monday, February 04, 2013
I finally found a job! Starting next Monday, I will be a sales professional in a local furniture store. I'm really excited, and I'll even be working with one of my old friends from elementary school. Since 90% of my clothes are casual, I went shopping yesterday and dropped about $250 on new work clothes. (I WANTED TO CRY. SO MUCH MONEY. But...I love everything I got, and I did get a lot.)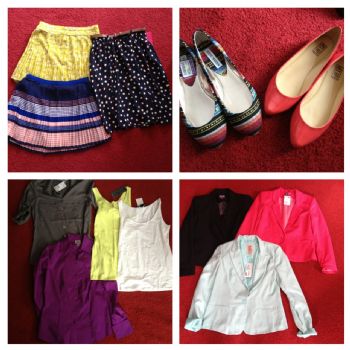 Three blazers, two pairs of pants (not pictured), two button-up shirts, two pairs of shoes, two tanks to go under blazers and three skirts (although the two pleated ones are too short to wear to work...I bought those because they were super cute and super cheap).
Successful shopping day! Now I'm gonna crawl into bed a little early and relax. Nighty night, SP!
PS - I'm still blogging!
fitfoodieblog.wordpress.
com/