So last night I watched a food documentary on Netflix Instant called "Fat Head." Essentially, a comedian, Tom Naughton, wants to debunk Morgan Spurlock's (SuperSize Me) claims that eating nothing but fast food will cause you to gain weight. For thirty days, Naughton kept to a 2,000 calorie diet, limiting only his carbs (100g), and ate nothing but fast food. He also increased his weekly walks to 6 times a week instead of 2-3. After all was said and done, he actually managed to lose 12 pounds and reduce his cholesterol.
www.imdb.com/title/tt133
3994/
There was a lot I liked about this movie. I've watched SuperSize Me and was rather dubious that Spurlock really consumed 5,000 calories a day. I don't doubt you can with eating at McDonald's every day, but the claim that he did that with only 3 meals a day seemed odd, and Naughton further shows how that claim is likely untrue. It's especially suspicious because Spurlock would not release his food log. Why would you want to hide it? That makes no sense.
I also liked Naughton's common-sense approach. He drank only diet sodas, iced tea, or water. He increased his exercise. He stuck to a calorie deficit and limit. He did eat "fast food" but he managed to do so without going overboard. And it wasn't all McD's salads either...he had many cheeseburgers. But I did not see any french fries, likely due to his low-carb limit.
Which brings me to my next point. A lot of this movie was Naughton talking with a number of experts about how animal proteins and fats are not bad for you and how we as humans did not start having a lot of obesity, diabetes, and cardiovascular issues until refined sugar and flour were heavily included in our diets. A lot of these people, Naughton included, advocate a low-carb lifestyle and how what kind of calories you consume is more important than how many you take in.
Now, I do agree with a lot of this and I don't think many would disagree at this point that sugar and white flour are not really all that good for you. Not only are they full of empty calories that will not leave you satisfied, but they also make your body's insulin production go haywire. Even a non-diabetic can experience a sugar crash right after having a candy bar. I would even personally go so far to say that I think there's more of a diabetes epidemic than an obesity one in our country. There are so many average-sized people with huge blood sugar and insulin resistance issues that don't even realize it.
And while creating a calorie deficit is a good thing, that alone will not make you lose weight. We all know this because we are all different and our bodies react differently to what kinds of food we eat based on our metabolism. I know when I had 70% or more of my calories as carbs, I could not lose weight at all, even if I cut my calories down to the bare minimum. Not to mention how horrible I felt.
At one point, they even go on a tangent about cardiovascular disease and how cholesterol does not cause plaque building...inflammation causes plaque build-up. Cholesterol plays just a small role in that. And inflammation can occur from vegetable oils, refined flour, and sugars. Dietary fat like saturated fats (but not trans fats. those are still bad) are OK because they will not cause your cholesterol to increase.
Based on Naughton's results, that does seem to hold water. But while they show some really compelling evidence against advocacy groups and the government (especially the "McGovern Report"), I don't know if I can buy this hornswaggle any more than I buy any of the other "evidence" all the other groups claim.
Sheesh, no wonder we as a society struggle with how to eat healthy. We have everyone telling us something different.
Vegans, vegetarians, pescetarians, low-carb, carb lovers, paleo, gluten free...the list goes on and on. Some groups say low-fat, others say low-fat will make you depressed. Some say eating too many whole eggs is bad for your cholesterol. Others say dietary cholesterol does not impact your overall level as much as genetics, so whole eggs are OK. Some say low-carb, others say you need carbs for energy.
They ALL have "scientific research". They all have "experts". And every 5 seconds, someone comes up with a new way to eat and be healthy. Just look at all these different diets on WebMD.
www.webmd.com/diet/evalu
ate-latest-diets
It's RIDICULOUS. And we all fight with each other over who's right and who's wrong and I personally can't make heads or tails of what I should be doing or eating based on all these "studies".
I'm honestly tired of it. And it's almost impossible to find actual precise research unless you are in college and have access to a lot of research papers or are able to find them at your local library or online.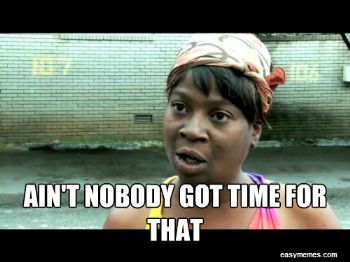 And we all think that just because someone is a medical professional, a TV personality, or some Joe Schmoe with his own documentary, that they must be right! And everyone else is wrong!
At this point, I don't know what to believe. I DO think the evidence is compelling for further research. And I plan to do that. It's not going to be easy to find good, unbiased research that is based on actual factual evidence and decent sample sizes.
Even in Naughton's case, I'm not so sure. Sure, his cholesterol levels went down, but if they aren't a factor, why does it matter? Also, what was his blood pressure? I don't think they once mentioned that in the film. With all the sodium he consumed, I'm curious. Also, did his increased exercise play a role in the cholesterol levels and reduced body fat? We don't know.
While this is a great movie to get one thinking, don't take it as gospel any more than Spurlock's "SuperSize Me". As Naughton says frequently, use your own common sense. Don't always believe what someone say because it simply looks legit or it comes from a doctor. Do your own research and draw your own conclusions on what is best for your own health.