Today I restarted my Turbo Fire. Having to not workout for 2 weeks was torture. But my back was in so much pain that it was better to wait and let my back heal. Turns out I had torn muscles in my back. Since I was eager to get back into working out and not have any more injuries giving it two weeks was worth it.
I re-thought some of my goals while I was off and here there are:
1) Feel confident in a tank top with nice toned arms
2) Feel good wearing shorts this summer and get back into my size 5 shorts by end of the summer
3) Put on a bikini before July! (hard work!)
4) Get back up to running a 10 km run...but with my new jogging stroller.
5) Get my toned abs back
These are all goals that don't exactly have measurements attached. I decided I needed to add a few of those to my 2013 goals.
With my Turbo Fire start I am now back at week 4, Day 22.
Day 22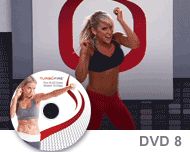 Today was Fire 45 EZ Class. Because this was my first workout back after tearing muscles in my back I didn't put in 100%. I wanted to be sure my back was okay.
The workout felt great! And I did the entire thing without pain. The only time I even felt a little soreness was doing knee lifts to the front. But it was more tight muscle sore - not the sharp pain I was getting before. Still I did all my knee lifts out to the side.
Tomorrow is the same workout...as week 4 is Cardio recover week...perfect week to restart after my injury. I think I can put a bit more effort in tomorrow because it's been about 7 hours since I worked out and my back still feels great...no pain at all.
Oh and the best part of my day...I decided to jump on the scale to see what damage had been done to my weight loss progress by not being able to workout for 2 weeks and...nothing! I maintained!!!! So I am exactly where I was 2 weeks ago weight wise!!! I am so glad I kept eating clean!