Day one... hoping by the end of this month this shirt will fit better.
Monday, February 04, 2013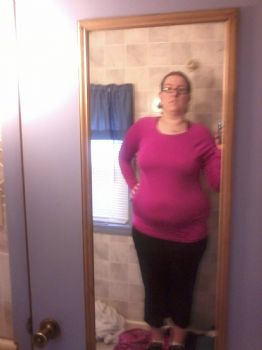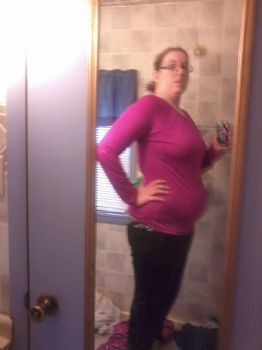 These pictures were taken today, 2.4.2012. I'm at a weight of 247 lbs. This shirt that I'm wearing is a bit too tight on my body right now. It's supposed to be bit tight, however, with the way my stomach is, it doesnt like to stay down. I have to keep pulling it down every time I move. I really like this shirt and even have a black one just like it. I really want to start wearing it and even start working out in it, however, I don't want the hassle of pulling it down. I'm going to take a picture of me wearing it every day for the rest of the month, that way I can see if my body is starting to change for the better. When I first got them I thought that they fit great when I tried them on at the store, but I things always seem to shrink when I get them home (BEFORE WASHING THEM!!) I can't wait to see changes. Even though my scale is saying I weight 247, I still think I look just how I did when I was 280... and my clothes havent gotten smaller. I'm a bit curious as to what the scale at a doctors office would tell me.