Had to run to the store today for a few items and I saw this new display for healthy eating stuff. So I stopped to see what was there and I saw this jar with a tan powder in it with "PB2 with premium chocolate" on the label.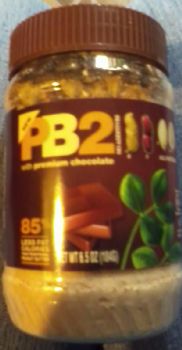 So I read " Savor the secret of chocolate PB2. Superior quality peanuts are first slow roasted then pressed to remove 85% of the fat and oil. We then blend the finest cocoa beans for a natural roasted peanut butter and chocolate flavor that's rich in taste, easy to enjoy and wonderfully healthy."
"Directions: Mix 2 tbsp. of Chocolate PB2 with 1 tbsp of water and stir util smooth. Prepare as needed."
Nutrition Facts Serving size 2 tbsp (12g)
servings 15
Calories 45 (.........WHAT????)
Total fat 1 g (are you kidding me?)
Sodium 70 mg
Protein 4 g
Ok it says that it is a chocolate peanut butter. Well it's peanut butter. I don't taste any chocolate in it. It does have a natural peanut butter taste. I mixed it per instructions and it came out thick. Really thick, like cold butter thick. So it needs a drop or two of extra water to it. I was going to try it with apples .... my favorite way to eat them. ...But it was to thick to dip. So I mixed up some more (at 45 calories you can do that.) added an extra tablespoon of water and the serving that I had just made. I ended up with a thick soup. Which is perfect for dipping.
Was it as good as Jiff? Nope.
Was it as good as store brand? Nope.
Was it good? It's a 45 calorie peanut butter that you mix up that has a peanut butter taste to it. If my store continues to sell it will I continue to buy it? I have not decided that yet. It was $4.49 for 6.5 oz. Which is a bit pricey for me. I will have to eat it a few more days to decide that. But the ingredients are simple ..... roasted peanuts, cocoa powder, sugar and salt. ... that's it. I say that's really simple.
It did make a wonderful dipping sauce. Mix it thin and use it for peanut butter sauces. Add some seasoning to it. .....The chocolate isn't strong enough to effect it being used like that. ... And with about a 4th of the calories of regular peanut butter, it would be a good way to cut some calories.
I was a little disappointed to see that the nutritional value was weak compared to regular peanut butter. Only 2 % of iron and no riboflavin, vitamin E or niacin. As far a the protein you can double it and get the protein and still be under regular peanut butters calories.
Here is a link to their website .... and what do you know ??? they got a bunch of recipes! Banana PB2 chocolate shake!?!
www.bellplantation.com/
So what did my lunch look like?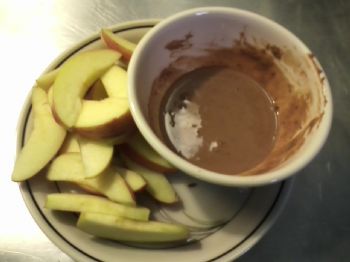 And now? ..... well I ate it all .... and even licked the bowl. (nah just kidding.) but I did clean it pretty good.
Well that's my thoughts on it for now.
Hope you are having a wonderful day!