Well, I had a fantastic few days and weekend this week, I don't know about y'all! Not having the stress of thinking about work has been great! Just focusing on getting ready for baby is awesome! Did lots of cooking, and batch cooking, and in general, I'm just learning more about how to be comfortable in the kitchen - something that does not come naturally!
Yesterday was the Super Bowl (ah-FREAKING-MAZing game!!!) and I straight up overate. Free day! Homemade meatballs, doritos, the whole sha-bang! Only about 4500 calories, not that much of a stretch - but over 7000mg of sodium! Whoa! I knew I was retaining water when I woke up this morning, because I didn't get up to pee in the night, and my fingers were like giant sausages!
So I braved the pretty slick roads (we had a snowstorm and a lot of freezing rain) to get to Zumba class. I wasn't planning on going anymore after a few weeks ago, but I'm still feeling great, and my gym membership is still active, so why not?!
The instructor wasn't expecting me. I was almost late for class, but she was waiting due to the bad roads. There were only 4 other people there. I swung open the door, and she's standing on the stage, sees me and shouts "Are you CRAZY?!" and laughs "Aren't you due, like, NOW?!". It was pretty funny! This is what I have to wear for Zumba - it's my only truly supportive workout gear I have left!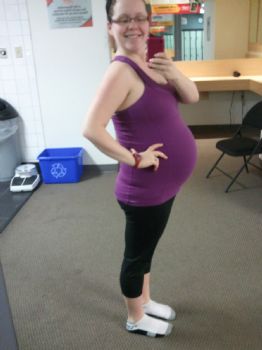 That's a big ol' belly!
Protip:
For all of you thinking of some day getting pregnant out there, I will suggest only *one* piece of workout wear that is ESSENTIAL for high-impact that you might not currently own, that will get you through the pregnancy. You know those yoga/running pants that have the extra panel that folds down over your bum? Well, that's what I'm wearing in that picture. Except I have it folded *UP* over the belly. With the super tight spandex of the shirt going over it, it's like actual maternity gear, without the ridiculous price!
*Not to mention I wouldn't even know where to buy really good maternity workout clothes*
It was a great class! I'll be back next week as long as I don't have Bean before then. I really can only handle one a week though.
Then I drove to work to bring in thank-you cards for my co-workers who had the nice shower for me last week. "Are you crazy driving on these roads?! You're going to scare yourself into labour!"
Uhh.. the roads weren't bad at all! Plus, there is a very real chance that I could go into labor in blizzard conditions while Brad is at work. In which case, I need to be comfortable driving on slick roads if I need to get myself to hospital!
(Although this is doubtful, I have lots of nearby friends and family who could get me there. Or, you know, we'll do it Little House on the Prairie style at home. Or not.)
Got my kitchen re-organized today, and now it's a super-chill day, as my to-do list is done! I have challenged myself this week to make supper every day, and preferably at least one thing I've never made before! Today's supper is pork chops, veggies, and slow-cooker mashed potatoes (already in!). The mashed potatoes are especially great - I did a 5lb batch so I can freeze a large portion of them. Mom made me promise not to eat any of the batch meals until after Bean is born, so it is forcing me to learn to cook over the next couple weeks.
Have a wonderful week!!