How Bout that?! Day 1 of this allllll fruit and veggie fast and I wake up craving meat! I dont even really like meat! LOLLOL!
Today, day 1, is all fruit and water. There is a veggie soup the plan allows and gives a recipe for, but not on day 1. Today is all fruit and water. And no bananas!
Ok, no problem, get it under control girl! I had a cup of coffee (black) which the fast says I can have. I drink good coffee so I dont mind it black. The hardest part of today is going to be the water. 10 GLASSES OF WATER!
After the 2 cups of black coffee, I poured my first glass of water and then thought of a way to cheat!!!

I threw a handful of strawberries, raspberries, mango, blueberries and a nice TALL ice cold glass of water in the blender! Fruit AND at least 10oz of water in a delicious fruit puree! Genius!
My first glass of water and half of the puree have filled me up for now. To Be Continued......

...2hrs later...STARVING! and at 4.5 glasses of water drank. Im pretty sure from how Im reading the plan, Im not suppose to have anything but fruit....BUT...Im having a 1cup portion of the veggie soup. The best thing about this soup is, ITS DELICIOUS! and after just 4-5 spoonfuls, that OMG Im going to throw up if I dont eat soon, feeling is gone!
The picture below is the food Ive already eaten today!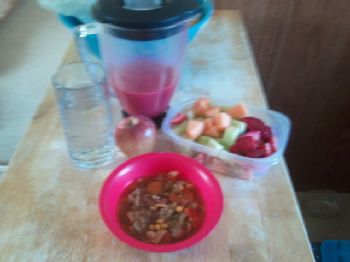 1) Fruit puree,- lots of fruit and 10oz of water
2) Tall glasses of water
3) An apple
4) Chopped fresh fruit bowl
5) Veggie soup
...to be continued...