On Sunday, Chicchantal and I met at Paddington Station for our second walk of the weekend. After some initial confusion, since I had got it into my head that we were going to Maidstone, when we were going to Maidenhead, and Chicchantal was thinking of a completely different walk anyway, I had brought my walking pole since she'd said we'd be ridge-walking, and actually it was completely flat, we took the train to Maidenhead, then on to Cookham.
I was already taking aspirins, since the back and knees that had been aching when we finished walking Saturday afternoon, were not much better Sunday morning, but apart from twinges in her back, Chicchantal felt fine.
Cookham is one of those English villages that apart from the traffic and parked cars, could justifiably be called 'quaint', with some genuinely old buildings,but most of us aren't rich enough to live anywhere like that.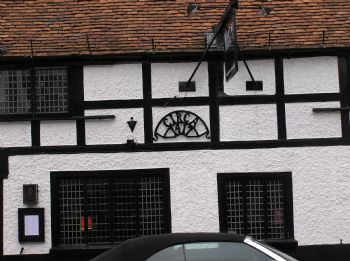 We walked over a little stream, where a hungry heron was looking for lunch.
There was an attractive Norman (circa 1100 AD) church, unfortunately shrouded in scaffolding from every view but this one!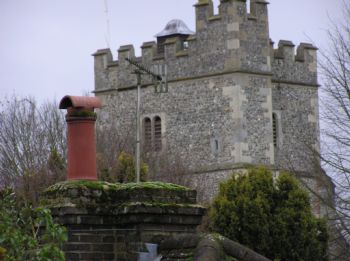 We went round to the right and over a hump backed bridge, where the path did the irritating thing that many English village paths do, and swopped from one side of the road to the other halfway across the bridge, so you either walk on in the mud at the side of the road, (now there's a novelty) or dodge the oncoming traffic. When we came to a stile, the way we needed to go was clearly defined!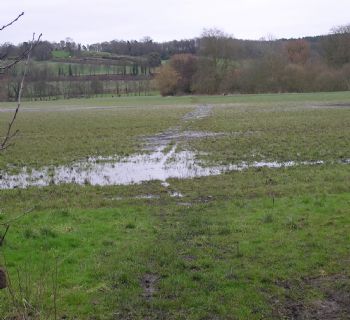 Far from ridge walking, we were going to cross the floodplain of Old Father Thames. Our intrepid heroines stepped into the water, and waded on. It was getting deeper, over the lace holes of our boots, and with a skin of ice on the top, and we both discovered that our boots weren't quite as waterproof as we had thought! Having reassessed the situation, and discretion being the better part of valour, we did the unthinkable and turned back!
Consulting the map again, Chicchantal found another path that would lead back to the Thames, and along the towpath into Maidenhead, so we set off. It was a much better path than the one we had left, and when, finally, we reached the river we stopped where we found a bench and had our sandwiches. The sign didn't look very promising.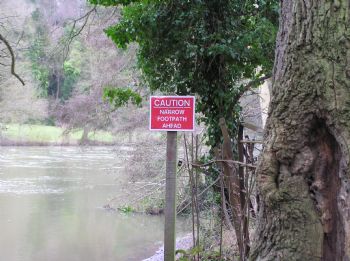 Then a jogger and a couple of walkers came through the other way, so we thought, rightly as it happened, that it couldn't be too bad. By this time I was feeling pretty tired, Chicchantal is obviously a good bit fitter than me still, and she forged on ahead. I had the excuse of course of taking the pictures!
Signs of spring are slowly appearing. One warm day and these alder tree catkins will be open.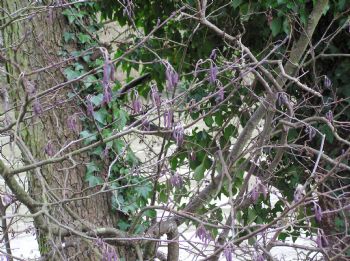 We also caught sight of a couple of red kites, birds which had been extinct in Britain until the 1980's, but are a relatively common sight now in the Chilterns. Not the best picture ever but you can get the idea.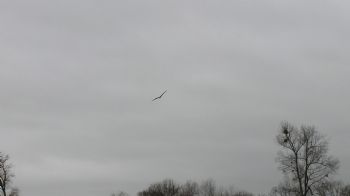 We both smiled at a group of furry bunnies, that suddenly stood up and took flight! Revealing themselves as Canada Geese!!
Just before Maidenhead, we found a very nice caff, and warmed our hands round some hot beverages. We also partook in some very tasty cake...it seemed rude not to. The lad who served me, took one look at my suffering face, and found me the largest slice of cake in the establishment! Scrummy!
The last half mile is always the worst, and it seemed to take for ever to walk through the town and find the railway station. It was well hidden, but we made it two minutes before the train, conveniently running late, arrived. We had covered just under eight miles, and boy, did I know it.
Funnily enough, the following morning I was fine!