Monday, February 04, 2013
Meet Benny the Bunny he is one of the knitting projects I have been doing for my Grandchild for She/He in June.
This is Darwin the Monkey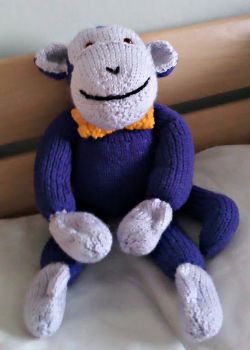 Purple and Lilac with a bright Yellow Bow tie makes him a little different to other monkeys.
Then there are the Blankets, hats and bootee's I made as well. You can see them all here
www.sparkpeople.com/mypa
ge_photo_gallery.asp?id=PA
ULAAUTUMN
I have even made myself something a Cowl and it was my own pattern you can find the pattern here
the-nutty-knitter.blogsp
ot.co.uk/
My next project is a Teddy bear but he will be a little different as well in nice bright colours. After that I am making one last Blanket a large striped one in all the colours Chizzy has asked for. I want it nice and big so it can be used later on more of a childs afghan I suppose.
Knitting keeps my hands busy and stops me snacking as I concentrate on what I am doing and probably watching something on the TV as well. I am often tempted to snack in the evenings and knitting stops that mindless eating.