REP EFFECT could hurt you!!
Sunday, February 03, 2013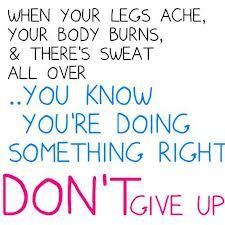 WOW - I MUST be doing something right!! I could scream, but it's ALL good. Feels like I accomplished something today,
BUT
I am concerned about being able to WALK tomorrow!!

Did Pump & Shred for the very first time today. Over 600 reps with 2 leg sessions - WOW!!
It has come highly recommended that I take a soaker with Epsom salts - think I will do that right now!