February update!
Sunday, February 03, 2013
wow what a start to the new year i can't even remember January as it went by so fast. This month has been stressful and i could of done much better but life happens. My pictures and stats are less than impressive but i lost and kept off 3.8 lbs this month which is good for me. Over the last few days my pedometer and scale have broke so i need to replace them quickly. I had a funeral friday which was stressful and then we spent Saturday ice skating for my girls birthdays it was so much fun. It was their first time and they did really well. I was ill when we got home and slept maybe it was the stress from the day before as well.
I'm pleased that i haven't gained although when i weighed myself it said i had gained 15lbs overnight. My mom came and weighed herself and it said she was the same weight which would of meant she had lost about 10st (140lbs lol) then my daughter weighed the same. Hubby changed the battery but it still weighed everyone the same so i think i need a new scale lol.
My stats for this month are:
Weight: 135lbs (3.8lb loss)
Waist 28.5inches (same)
Hips: 34.5inches (same)
Thigh:22 inches (same)
Arms: 10.5inches (.5inch loss)
I think my photos show everything tighter and lifted but thats all i see no other difference. This months photos are a little closer but iv tried to match them the best i can sorry not the most attractive photos but they show some if only a little progress.
Front: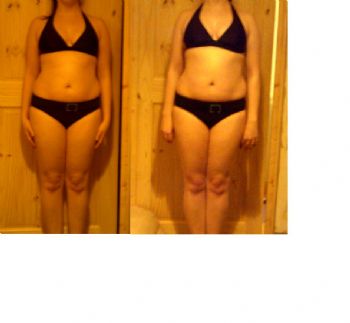 Back: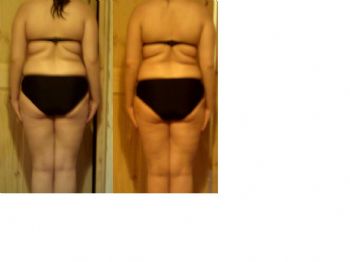 Side: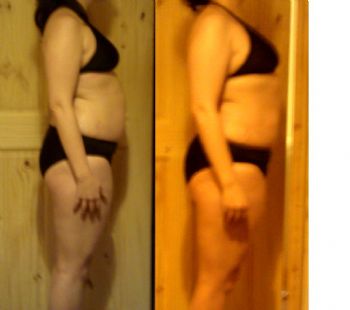 This month i will wear a pedometer and shoot for 10,000 steps on a MOn, Wed,Fri and on the other days 18,000. On Mon, Wed and fri i will do a dvd. Hopefully i will meet my goal of 5lbs this month and see some better results adding dvd into the mix. I was suprised at how lazy i have become when i wore my pedometer some days i barely had 3,000 steps and on a good day i just met the 10,000 mark. Although i do alot i don't move nearly as much as i thoguht lets see what happens with consious effort how many steps i pull this month.
Hope everyone has a great February!