Sunday, February 03, 2013
This picture was on the celebrate page of my SparkCoach lesson today...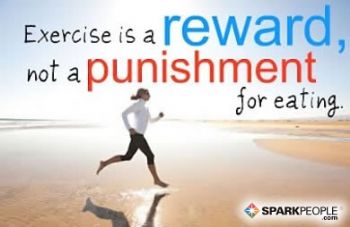 I read it, and felt a twinge of guilt.
"I don't feel that way! I hate exercise. I like the satisfying feeling after I'm finished, but I dread it every time, and I can't wait until its over every time. Sigh..."
And I've always been this way. I hated PE, and in middle school I got out of it by excelling at music and drama. My hobbies then besides those clubs was reading. I've tried every kind of exercise to find the "right one" that I will enjoy... Aerobics, Zumba, Tae Bo, walking outside, walking on the treadmill, I've joined gyms, I've bought tons of exercise DVD's and gadgets...
I even tried running last year. I did the entire Couch to 5K program faithfully, "ran" a 5K and kept trying to "love it" like everyone said I would. I did it for a full year and still hated every minute of it.
So, how do I get from loathing it to seeing it as a reward?!?! I've been wearing a Fit Bit, which seems to motivate me to move more, and I've been walking because I seem to hate it less and it's les jarring. And I've been fitting in some body weight strength training. So I'm trying ... But can someone tell me how I can "change my mind... Change my life?" Because I really want to!!! I really do!!