Sunday, February 03, 2013
As some of you may know, I set a goal for myself to run at least 30 races in 2013. As of yesterday, I've already completed 4 races: two 5K's, one 10K and yesterday was the Winterlaufe 8K in beautiful Frankenmuth, MI. I wish there were more 8K events in my area because it's my favorite race distance. It's was 16 degrees and snowy...perfect weather for Winter Warriors!
I am so happy that I joined the running group in my area. Here are some of us before the race.
The course was quite hilly, which is much different from what I am used to. Much of the course was snow covered too. I had run this race twice before (both times were pre-broken ankle) and my goal was to beat my previous time. Even though I had to walk a couple of times, I not only beat my previous time, but I PR'd all the 8K's I've ever run! Here I am crossing the finish line. My official finish time was 48:13.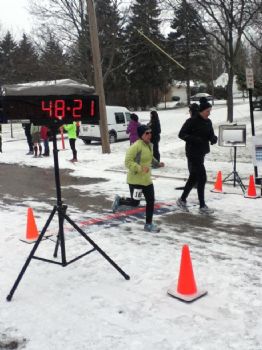 I have now proven to myself that I can become even stronger after injury. I can conquer the world!
Of course, I can't finish a blog without posting a picture of my little love bug. He's 8 months old now and getting into everything! He lights up life!