Saturday, February 02, 2013
I've started February with determination and energy and I intend to keep it up. February 15th will be my one year anniversary here on SparkPeople (I've been a member since 2008 and I've been using the site on/off since then, but this is the first time I've been consistent) and I really want to make these next two weeks count!
I'm currently at 154 lbs and my goal is to get down to 150 lbs by Valentine's Day. Then I'll be able to say I lost 40 pounds in a year! :) By the end of February my goal is to lose another four pounds and get to the 140's! I know I can do this. I'm going to focus on sticking to my meal plan and I'll be adding more exercise to my weekly routine. It'll be easier to find the motivation and energy to work out now that the days are getting longer and lighter and the temperatures are beginning to rise. I'm confident February will be a success! I'm going to plan my meals and workouts ahead of time and stick to my schedule. Then I'll do just fine and reach my goals!
Today I went for a nice walk/run in the morning. I ran for 20 minutes (2.5 miles) and walked briskly for another 40 minutes. Afterwards I did an hour of yoga at home and I also did some strength training for the upper body. I felt so great when I was done! Last week I was in a funky mood most of the time and not getting enough exercise only made it worse. This month I'm going to make sure I get enough high intensity exercise and eat right to keep my mood swings and stress in check.
I hope all of you are having a great Saturday! I'm off to bed, it's almost 1 am here. See you guys tomorrow :)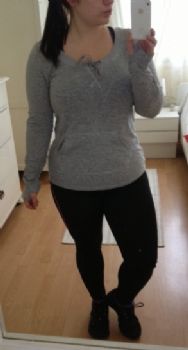 (Me, ready for my run this morning)