Saturday, February 02, 2013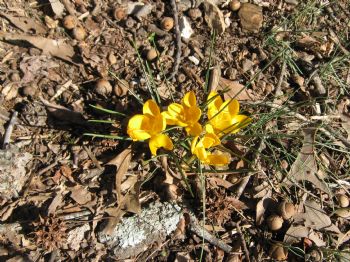 I saw someone's post that since they moved to the south that they don't have crocus..well I live in the south and here are a few of mine that are blooming..they probably don't get as big as some in the north but they do bloom every year and they tend to spread a little very year..the purple ones are bigger and have not begun to bloom yet.
Busy day..errands in town this morning and then have a book I just cannot put down so have read some on it and also stitched a little on my table topper. Got a walk in and helped a little with the garden clean up..we had to remove the dried asparagus stalks and okra stalks and then got the small section where we plant the lettuce tilled. Hubby is using the big tiller now to till the rest of the garden. We do the lettuce bed with a small old mantis tiller..great for small spots..I'm thinking of dragging down some old barrels and filling with soil and leaves and planting potatoes. Our soil is very rocky except for our garden spot and we usually don't have room for potatoes in it so thinking this may work. I've seen where people grow them in old tires and even a laundry basket or compost pile so thinking we have some old barrels I could use..will be checking it out tomorrow during "stupid bowl"..sorry..I know many of you enjoy watching but just not my cup of tea..I do like the commercials and sometimes it is worth it for that but used to love the old Bud commercials with the frog..or the dog ones last year took the cake for me..but then I guess I could watch the puppy bowl..would probably enjoy it more..and also if I do the potato growing bins, then will get some much needed exercise..