January 2013 was one of my best months ever for improving my eating habits and my commitment to fitness!! Should I do separate blogs or a long one? How about I do a long one, but you get credit for reading a blog if you read one or more sections!!
1. Rotary Twilight 5K - non-race results
At 3pm yesterday I put on my running shoes and tried to run around my neighborhood. My quads, my glutes, and my hamstrings were just yelling at me to stop. So I decided I would support my nephew and primarily walk the 5K with jogging intervals. I told him any time he wanted to skip a run (jog) interval to let me know, but he never did. We did the whole 5K with 1 minute jog/2 minute walk and made it in 45:25, taking 2 minutes and 5 seconds off his previous 5K time. He has now set a goal to run a 5K every month in 2013 and plans to make at least 3 more PRs and has set his sites on completing a 5K in 37 minutes. So even though it was more than 12 minutes slower than my slowest 5K to date, I consider it a success!
Here we are before the race. The parking lot was full more than an hour before race time so we had to park in a residential area: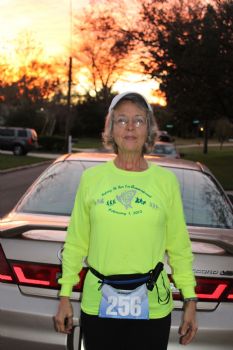 I hope you can see the beautiful sunset in the background: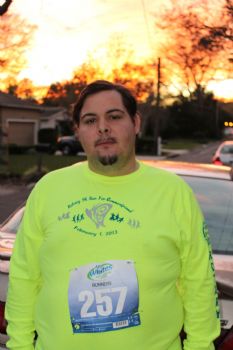 Then I left my camera in the car as it is too big to carry on a 5K.
Here's a link to the race video of the beginning of the race with 700 participants:
www.facebook.com/#!/phot
o.php?v=298906333498799&se
t=o.159657600783303&type=3
&theater
2. My Weight
I weighed 126.6 here at home this morning and 127.6 at Weight Watchers at 8:30am. This is the least I've weighed since November of 2011, more than a year!!!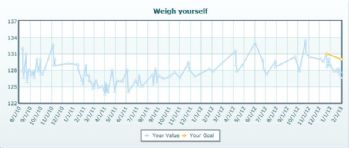 I'm hoping to get back down to 124 in order to have 126 as my "home weight". I find I often fluctuate up, but rarely fluctuate down. If I want to get down, I have to work for it!! I'm feeling very good about my weight these days. I can tell a huge difference between 126.6 and 132, although I don't think many other people can.
3. Taming My Sweet Tooth
I finished the Official Tame Your Sweet Tooth Challenge here on SparkPeople in January. The last time I had a packet of artificial sweetener was 1/8/13, when I had been a 12-20 packet a day person for many years. I had nothing sweet for 2 weeks and since have had only 4 non-soda sweetened drinks, one per day. The only real sugar sweet thing I've had was a Chinese fortune cookie for 28 calories. I consider this accomplishment a minor miracle as I have tried unsuccessfully several times before. I can't tell any difference in the way I feel, but I can tell a big difference in the way I perceive sweetness. The more Splenda I used the more I needed to taste it. Now many veggies seem sweet and black coffee and plain tea are tolerable.
4. Lunch
I like to do "bowls" for lunch, throwing in various grains, beans &/or meats, and lots of veggies. Yesterday to a cup of brown rice I added 100 calories of albacore tuna and 2 chopped celery sticks. I microwaved it for 2 minutes so the celery was an interesting crunchy texture. Then I threw a chopped tomato on it fresh and sprinkled it with black pepper. So easy. So satisfying. So yum!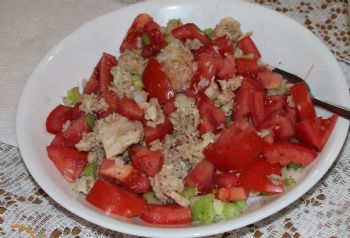 5. SparkCoach Challenge
The SparkCoach Challenge yesterday was to plan your snacks and I did. My first snack was an apple, which was sufficient for morning without much protein or fat. For afternoon snack, I thought I needed something more satisfying and decided to see if I could re-create a recipe I had seen and couldn't quite remember for cucumber "sliders".
First I got out the ingredients: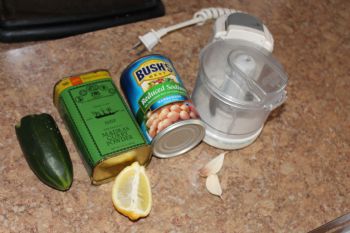 Then I put the garbanzo beans in the chopper with the juice of the lemon, one garlic clove, 1 tsp of the curry powder. I tasted it and decided against a second garlic clove, but decided to add one teaspoon of olive oil that I hadn't photographed with the ingredients.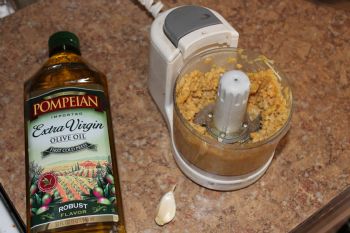 Then I sliced half a cucumber and made little sandwich-like "sliders." Pretty yummy. I may experiment to improve further the spice balance with this new favorite snack.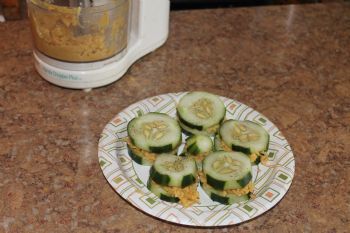 I had written down that I'd be flexible as to what to eat after the 5K, that there might be bananas or something available. After the 5K there were bananas, water, chili, and cookies. I had a bottle of water and one banana. My nephew was hungry and we went to a Chinese restaurant for him to eat. I just had one cup of decaf coffee there. I went home to have my last snack, bowl of 1/3 cup of Old Fashioned Oatmeal cooked with 1/2 cup unsweetened applesauce. You don't need a picture of that!! So I consider that a successful SparkCoach challenge.
6. Water Exercise
This morning I was still feeling quite sore from my personal training session on Wednesday. I still needed to burn over 600 calories to make my exercise goals for the week. I decided that water exercise was probably my best bet. I did a deep water aerobics class that I had never tried before. There were times I was huffing and knew I was getting cardio exercise. There were times my arm muscles were letting me know I was definitely getting a workout. Now, there were times when I was wrestling with a water noodle that kept popping up in the wrong place. Then there ws the time I thought I was just doing great until Aquagirl pointed out to me I was supposed to be going forward and I was going backward!! Well then I knew my form was wrong, but it was hard to keep from laughing as I attempted to get it right! I really gave much more effort to my water jogging so that my effort was equivalent to running. Then I swam 8 twenty five yard laps. So now I'm only 111 calories from my weeklycalories burned goal, and I'll get them.
7. My Most Important Streaks
I am now putting stars on my calendar for each day I stay within my calorie range. I know that I can look on my SP calendar and see stars for the same thing, but it helps me to have it on my calendar that I pass when I enter the kitchen. I also check off every day I meet my sugar/artificial sweetener goal. I just started 6 days ago and currently have 6 stars and 6 checks. I have just decided to add a symbol for strength training, as that is probably the next most important streak I want to cement as my routine. I feel like I will do the cardio because I truly want to and don't need a motivational tool for it. I make good food choices almost all the time now days. I drink my water. I go to bed on time and usually get enough sleep. Some things I don't need to count any more -- thank heavens!!
I'm feeling very good about my progress. Hope you are, too!!