Saturday, February 02, 2013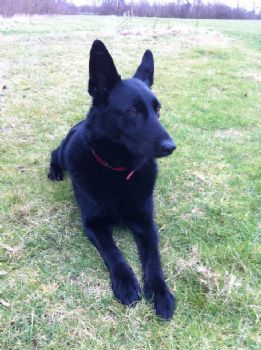 Here she is Sophie my son's dog
We are having her for a week whilst they go off on holiday. They are off to the Gran Canary Islands on a cruise and Sophie will be with us.

So lots of lovely walks with Sophie for a week. I make blogs about her stay as a bit of fun and to show Dean and Chizzy what she has been doing.
I have started it already if you want a laugh have a look you will all now know I am more than a little dotty.
sophiesfebruarybreak.blo
gspot.co.uk/
So hopefully the rain will not be too bad and we can get down to the canal and have some fun throwing her ball. Sophie cannot go for a walk without her ball it is all part of the walking process. She carries it in her mouth and looks so darn cute. We have two balls one we throw so she runs to get it and the other is ready for when she gets back to us so it is round of throw run throw run for her, she loves it. I get to have a good walk 3 times a day and I get to see my favourite places again.
I don't go for walks on my own as it is not safe to do so but with Sophie it is different, she is an ex-police dog and people tend to give her a wide birth as she is a big dog.
She arrives 11am today and I am really looking forward to having her.