Friday, February 01, 2013
It might sound weird but it is sooooo yummy. I love onions so you can try it with a quarter cup instead of the half cup that I used.
1 cup sliced strawberries
1/2 cup thin sliced red onion
1 tablespoon balsamic vinegar
1/2 cup edamame beans
4 cups of mixed baby greens
Marinate the strawberries and onions in the vinegar for 20-30 min. Then toss with the greens and beans and enjoy!
Calories 230 carbs 37g fiber 14g fat 6g protein 17g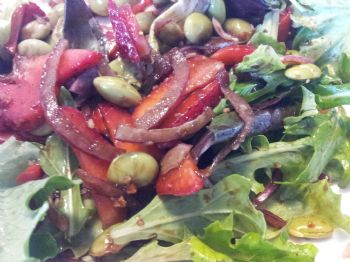 This is a very light lunch for me so I had my "snack" right after. So this was the rest of my lunch.
1 cup plain greek yogurt
1/2 big fuji apple sliced
1 tablespoon of walnuts I tracked it as .125 cups
Calories 294 carbs 27g fiber 4g fat 11g protein 26g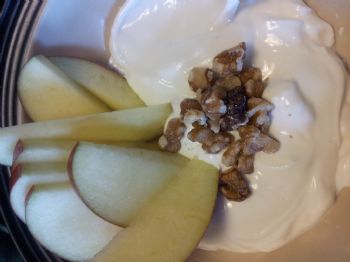 So my lunch totals where calories 524 carbs 64g fiber 18g fat 17g protein 43g
Quick simple grain free. Win win win for me : )!