Friday, February 01, 2013
Today I was working on tax reciept data entry for the non-profit I work for part time! I do not know how people do that all day every day? Figures, numbers and bank statements! OUCH my brain hurts! Think I might develop Tennis brain ( you know repetitive strain injury)
I am so not the mathematical brain! Anyway I did it nonetheless!
Kids are home on PA day so it was a challenge.
I am doing well, GUESS WHAT? Still no coffee....I think I need a new mug that says, Tea is my cup of coffee....hehe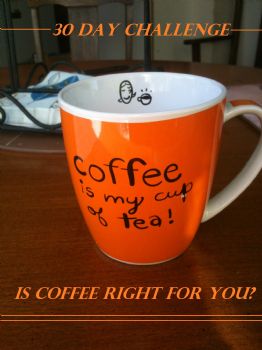 MY NEW MISSION it to increase my veggie intake for the day!
SIGH, when it is cold and I am strapped for time it is a challenge!
ANYWAY, I will be aware and try to make changes, in fact, it MAY ( or may not) be part of the next challenge!

I am still working on the final 30 Day Challenge blog if you want to send in any more pics!? Like one of you in your SKINNY JEANS???? ( HINT) then please do so.
HUGS TO ALL!