Friday, February 01, 2013
I just got back from my cruise vacation last night. One of my goals was to try to maintain my weight by eating reasonably well and avoiding alcohol.
Um... who exactly was I kidding?
I came back from the Caribbean with a few extra pounds, but they were expected and I'm okay with it. I thoroughly enjoyed myself.
I realized especially during this trip how much my weight loss has changed my life. I was brave enough to sing karaoke - in front of people!! I can carry a tune but I'm by no means an amazing singer, so I was always too shy to put myself on display like that. Also, I tried parasailing! Even though the weight limit was 375 pounds and I was well below that even at my heaviest, I was always too ashamed to try anything like that. It was a really cool experience and I'm so glad I did it!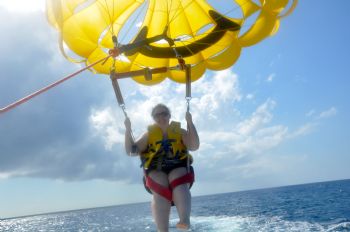 The best part of the trip was that I made so many new friends. A couple of truly fantastic guys that we met live about an 8 hour drive from me so I know I'll see them again soon.
One of the harder things was realizing that I still don't feel "worthy". I quickly developed a major crush on one of the guys. He is probably as close to "perfect" as one can get: smart, funny, successful, genuine, fit, healthy, adventurous, and soo attractive. He rarely drinks, he doesn't smoke, he's taken etiquette classes and knows how to salsa dance. He's a total gentleman. Swoon. Anyway, I kept thinking that there's no way he could be interested in me, surprised he was even so nice to me, etc. What a terrible thing to think! So I definitely need to work on believing I'm deserving.
That's all I've got for now... Time to try to catch up on your blogs and updates!